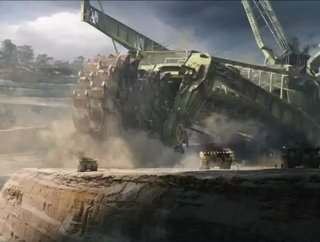 10.) Bagger 293 bucket-wheel excavatorThe Bagger 293 bucket-wheel excavator is arguably the largest man-made piece of machinery ever made. Constructed i...
10.) Bagger 293 bucket-wheel excavator
The Bagger 293 bucket-wheel excavator is arguably the largest man-made piece of machinery ever made. Constructed in Germany, the mega earthmover is the Guinness World Record-holder for largest land vehicle – towering at 310 feet tall, 722 feet long, and weighing over 31- million pounds. The bucket-wheel itself is over 70 feet in diameter and can move 8.510 million cubic feet of earth per day. The Bagger 293 requires five people to operate and is capable of working in the toughest conditions.
9.) Gabi One tunnel boring machine
The Gabi One is one bad mamma jamma. As the longest tunnel boring machine (TBM) on earth, this goliath of a machine weighs in at a whopping 3,200 tons, measuring 440 meters in length and 9.58 meters in width. The Gabi One utilizes 10 single motors giving it 5,000 horsepower, not to mention, it's among the most technological advanced boring machines in the world. It was used to carve out the Gotthard Base Tunnel, a 94.3 mile section of tunnels in Switzerland, making it the longest rail tunnel in the world. 
8.) The Silver Spade
Although it's not operational anymore, the Silver Spade's track record earns a place on our list of mega earthmovers. Weighing in at 16-million pounds, the Silver Spade is taller than a 12-story building and the last giant stripping shovel to operate in the world. This beast of a machine lasted over 40 years of hard labor and moved over 600 million cubic-yards of rock.
7.) Caterpillar 657 Scraper
The Caterpillar 657 Scraper is the most powerful of its kind and the company's first two-axle model to utilize a front and rear engine. The 657 can dig, dump and load without the assistances of other machines and there is no other scraper in the world that can match its efficiency.
6.) Letourneau L2350
The Letourneau L2350 is the grand daddy of earthmovers. Listed in the Guinness Book of World Records, the L2350 is the largest wheel loader in the world. Designed and manufactured by Letourneau Inc., the L2350 can scoop and move a staggering amount of earth with its 53-cubic-yard shovel. The loader's 65-liter, 2300 horsepower diesel engine
5.) Bucyrus 8200 Walking Dragline "Liberty"
The 8200 walking dragline, AKA Liberty, is the world's largest dragline currently in operations. A youngster to the mining industry, Liberty weighs over nine  million pounds and operates with a 160-yard bucket on a 360-foot boom boasting eight hoist, eight drag, four propel and 14 swing motors. This giant machine is close to seven stories high and can move over 250,000 pounds of earth across 200 yards in less than 60 seconds. This simple and efficient dragline is perfect for coal mining. 
4.) Liebherr T 282B
The Liebherr T 282B is one of the largest-capacity dump truck in the world offering a payload capacity of roughly 400 tons. Introduced in Germany in 2004, this behemoth of a dump truck boasts a 3,650 horsepower engine with a maximum operating weight of almost 600 tons. The 282B utilizes efficiency and maintenance free diesel-electric locomotive technology, including two AC induction motors for the rear axle, engine mounted generator and a computer controlled power inverters.
3.) Terex RH400 Hydraulic Excavator
The Terex RH400 is undoubtedly the biggest machine of its type. Designed to handle one of the toughest terrains on earth - the Alberta oil sands in northern Canada - the Terex RH400 can lift 85 tons of earth in a single scoop.  The keys to the excavator's success are the huge bucket and strong arms powered by the world's largest hydraulic system. The Terex RH400 is powered by two 16-cylinder diesel engines with a maximum power output of 4,400 horsepower at 1,800 rpm.
2.) Komatsu D575A-3 Super Dozer
The Komatsu Super Dozer is no ordinary digging machine. Standing 16 feet tall, 41 feet long and 24 feet wide, the D575A-3 is a majestic beast of size and power. The super dozer is powered by a turbo-loaded, drawer-air-cooled 12-cylinder diesel engine with a performance range of 1,150 horsepower. Unlike most bulldozers, the Komatsu D575A-3 can scoop and carry dirt off the ground as it's equipped with a blade the size of a three car garage, allowing it to push its own weight (350,000 pounds) in load.
1.) Liebherr R 9800
In terms of mega earthmovers the Liebherr R 9800 is king. Developed for large scale mining operations, the R 9800 is equipped with two 16-cylinder engines providing 2,000 horsepower providing faster loading cycles and immense digging and breakout forces. Weighing in at 1.7 million pounds, the R 9800 offers a backhoe bucket and shovel capacity of 3,000 pounds. The Liebherr R 9800 offers superior flexibility and productivity for a machine of this magnitude.