AusIMM's Thought Leadership Series
Fri 02 Jun - Fri 03 Nov, 2023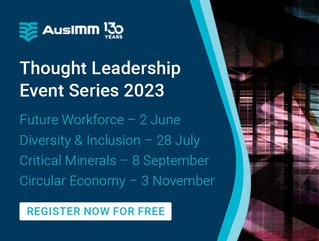 AusIMM's Thought Leadership Series
AusIMM's Thought Leadership Series - Sustainable Mining: Shifting the Paradigm
AusIMM's Thought Leadership Series is a compelling dive into the critical thinking that will shape the future of mining. Delivered from June through to November in four online sessions, thought leaders and industry experts will engage in thought-provoking discussions that will guide how we approach future challenges and opportunities that affect our industry.
Under the theme of Sustainable Mining: Shifting the Paradigm, the series recognises that the resources sector is committed to change but with increasing external pressures, the required pace and breadth of that change will be unprecedented.

The topics covered in the series include:
Future Workforce | Friday 2 June | 11.00am AEST
Diversity & Inclusion | Friday 28 July | 11.00am AEST
Critical Minerals | Friday 8 September | 11.00am AEST
Circular Economy | Friday 3 November | 11.00am AEST
Registration is free. Book now to ensure you don't miss this pivotal series.