Supply Chain & Operations
Aris Gold bounces back into $3.1mn profit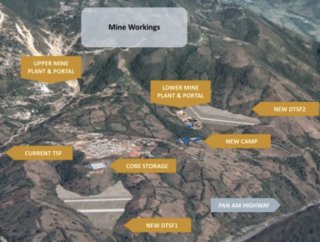 Aris Gold reports Q1 net earnings of $3.1mn - significantly up on the $7.3mn loss in Q1 2021 - with gold production rising at the Colombian Marmato mine
Canadian mining company Aris Gold Corporation has roared back into profit after reporting Q1 net earnings of $3.1mn - a significant improvement on the $7.3mn loss in Q1 2021.
First quarter gold sales this year totalled 7,698 ounces at AISC of $1,466 per ounce, which "compared favourably" to average quarterly gold sales of 6,731 ounces at AISC of $1,656 per ounce in Q1 2021.
CEO Neil Woodyer said during Q1 it began to see positive results from its performance optimisation initiatives at the Marmato Upper Mine, where free cash flows - the Upper Mine generated $3.4mn in the quarter - were allocated toward Lower Mine construction activities. The company expects to invest $85mn in the construction of the Lower Mine this year, of which $6.5 million was spent in Q1.
The Marmato mine is located in the Marmato gold district in the Caldas Department, a mountainous region approximately 80kms south of Medellin, Colombia.
The company remains on track to meet full-year production guidance of 40,000 to 45,000 ounces, with gold production from the Upper Mine expected to increase in the second half of 2022 as the mine sequences into higher grade areas and processing rates increase.
"Our EPCM contractor is nearing completion of the front-end loading (FEL3) design work for the Lower Mine, and following this, we expect to release a new mineral reserve estimate," said Woodyer.
"In April, our senior management team stepped into the operator role of the Soto Norte joint venture, and we are leading the work to successfully obtain a mining license extension from ANM, the Colombian National Mining Agency, as well as the drafting and advancing of a new environmental and social impact assessment for the Soto Norte gold project. We continue to be impressed by the quality of the Soto Norte project, and the social development opportunities it offers."
Construction of the Marmato Lower Mine progressed in Q1. Construction of the El Higuerón decline and ventilation system in January and it has been working closely with Corpocaldas, the regional environmental authority, to finalise the Environmental Management Plan (PMA).
All other critical path activities remain on schedule for first gold production from the Lower Mine in Q4 2023 and these will be reconfirmed through the project FEL3 design works in Q2 2022.
Last month Aris Gold closed the acquisition of a 20% joint venture interest in the large scale Soto Norte gold project in Colombia, with the option to acquire a further 30% interest.
Soto Norte has indicated mineral resources of 48.1Mt at 5.47g/t of gold, 35.8 g/t of silver, and 0.18% copper containing 8.5Moz of gold, 55.3Moz of silver, and 193Mlb of copper, inclusive of mineral reserves, along with inferred mineral resources of 27.3Mt at 4.06 g/t of gold, 25.9 g/t of silver, and 0.18% copper containing 3.6Moz of gold, 22.8Moz of silver, and 107Mlb of copper.
The mine will provide employment for up to 1,800 construction contractors and 940 full time operations personnel.