Supply Chain & Operations
Atlantic Lithium's lithium mine production in Ghana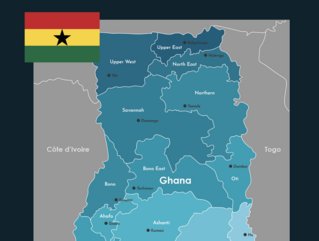 Australian mining company Atlantic Lithium's interim CEO says revenue from mine could reach nearly US$5bn over its 12.5-year lifespan
Australia's Atlantic Lithium expects to begin production at what would be Ghana's first lithium mine by the second half of 2024, a senior official has said.
West Africa's first hard rock lithium project
The company's interim chief executive, Lennard Kolff, told Reuters during an interview that revenue could reach nearly US$5bn over the mine's lifetime. Kolff stated that a pre-feasibility study of the mine projected up to US$4.84bn in revenue over a 12.5-year lifespan, with an initial rate of return of 224% and payback in less than five months.
He added an updated assessment will be published early next year.
"This is really an exceptional project, not only from an economics point of view, but a social one as well," said Kolff, who is Atlantic Lithium's lead geologist. He took over as interim CEO of the company after the sudden passing of founder Vincent Mascolo.
"We have a chance here to make Ghana a forerunner in the global decarbonisation race by building what could be West Africa's first hard rock lithium project," he added.
Driven by increased demand from automobile makers, lithium prices have reached as high as US$70,000 per tonne this year. As automakers move towards producing more electric vehicles, it has become imperative to secure supply to ensure battery production.
Ghana to diversify its exports, including lithium
Historically once one of Africa's top gold and cocoa producers, Ghana is looking to diversify its exports, Kolff said, adding that lithium could be a partial solution.
"Now is the time to capitalise on higher prices in the market, because it won't last," he stated, noting that prices will inevitably decline as more high-yield lithium mines come online.
The firm's flagship project is the Ewoyaa Lithium Project in Ghana. It is funded under an agreement with Piedmont Lithium for US$103m. In March 2022, Atlantic Lithium announced an updated Mineral Resource Estimate for Ewoyaa of 30.1Mt @ 1.26% Li₂O (Inferred and Indicated), including 20.5Mt at 1.29% Li₂O in the Indicated category and 9.6Mt at 1.19% Li₂O in the Inferred category.
The Piedmont investment is in three stages – US$16m initial investment into Atlantic Lithium in Stage 1, US$17m for the funding of regional exploration and DFS in Stage 2, and US$70m for funding of Capex in Stage 3.
Atlantic Lithium also pointed out that the project is located next to excellent infrastructure and has been proven to produce a premium SC6 product suitable for conversion used in batteries.
A mining licence application will be submitted shortly, the company said, adding that by this time next year, it hoped to have obtained the licence and broken ground.