Supply Chain & Operations
Building one of Mining's Leading Ports - Roy Hill in the Pilbara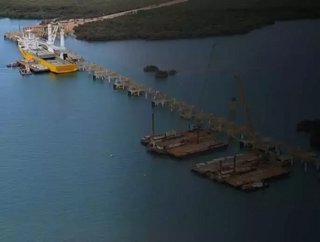 Previously posted on Austmine.com.auWith tighter cost control on major port and marine projects, contractors are required to do more with less, which ca...
Previously posted on Austmine.com.au
With tighter cost control on major port and marine projects, contractors are required to do more with less, which can be a tough ask when balancing project requirements against desired outcomes.
That is why design and maintenance considerations are more important than ever for cost reduction and increased efficiency. Whether it's new-build developments or repair and maintenance initiatives, specific applications need to be strategically addressed and implemented.
Neville Kidd, Engineering Manager at McConnell Dowell, is involved in constructing the last two berths for Roy Hill's port in the Pilbara region in Western Australia. He says that there is a shift from engineering, procurement and construction management (EPCM) methods to design-build applications.
"We're seeing a subtle but gradual trend among marine asset owners, where, in an effort to more tightly control cost, demand is shying away from EPCM and shifting back towards design and construct. And material selection for design and construct projects has been dominated by structural capacity and ease of construction, ahead of durability," he says.
In design-build projects of any scale for marine structures, asset owners need to have a thorough and objective assessment of the individual program characteristics. This paves the way for early engagement with both the designer and contractor, which will ensure that the contractor isn't hindered by re-design requirements from consultants during construction.
Part of the marine package for Roy Hill involves almost four kilometers of an overland conveyor, which is an elevated structure with its own service road – it can be compared to the features of a viaduct. The shiploader system is being supplied separately, but once it is on the wharf, it will become McConnell Dowell's responsibility.
To enable this elevation, a pair of travelers has been employed – a piling frame system that cantilevers out with the crane for the next pile bent.
As it moves on to the next pile structure, it installs the road and conveyor module behind it. The secret to this application is not just the cantilever or the dual-traveller system, but efficient material delivery to the application.
"All access to the work fronts has to be along the newly constructed "viaducts" so all piles, headstocks, road deck units, conveyor galleries, miscellaneous plant, materials, consumables and personnel are transported along the elevated road. This way they'll arrive at the work front only when needed and without delaying any other activities," Neville explains.
Efficient design approval processes have played a key role in this development, due to increased collaboration with designers, managers and owners. But an interesting dynamic of the Port Hedland marine berth projects has been employment of three different design consultants over the course of the various projects, which has greatly influenced new improvements over previous designs.
Port and marine structure projects can be intense undertakings for asset owners. Early engagement with contractors in the design stage is crucial from a risk management perspective, as it will prevent obstacles that are counter-productive to delivery timeframes for construction.