Supply Chain & Operations
C2C Gold targets Newfoundland with Rock Gold purchase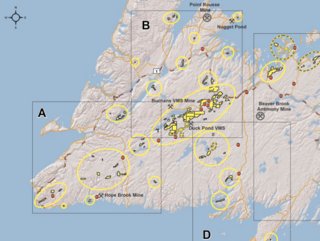 Rock Gold holds more than 40 Mineral Licenses in Newfoundland with projects lying along most of the major gold bearing trends
Canadian mineral exploration company C2C Gold Corp. has underlined its commitment to Newfoundland mining after buying Rock Gold Corp.
Under the share purchase agreement, C2C Gold acquires 12,250,000 common shares of Rock Gold. Coinciding with the acquisition, William M. Sheriff has been appointed as a director of the company.
Rock Gold holds more than 40 Mineral Licenses in Newfoundland with projects lying along most of the major gold bearing trends, and holds five properties, two of which are drill ready, under option from well-known local prospectors.
The combined companies will provide a pipeline of projects from early exploration stage through drill ready with known gold occurrences documented on most of the projects, all of which lie along major structures.

Lori Walton, Director of C2C Gold, said the combined entity will leverage geological and financial expertise to advance high‐quality exploration projects while identifying other projects in its portfolio available for joint-venture, sale, or option, thereby allowing C2C to monetise these projects through participation, royalty retention and/or sales proceeds.
It also allows the opportunity to generate discovery opportunities while minimising project risks and maximising financial sustainability with the ultimate goal of royalty creation. "We are excited for the extended opportunity to generate increased financing options and access to capital, while reducing the exploration model and financing risk," he said.
C2C Gold starts work on South Tally mining project
Last week C2C Gold started the 2022 exploration season with initial work being conducted on the South Tally project.
An airborne drone geophysical survey, now underway, will provide a high-resolution survey which the technical team will utilise to map the surface and identify structures in the subsurface.
The survey, instrumental to determining the geometry end extent of fault zones and host rocks, provides a valuable tool in areas with till cover that may be obscure quartz and gold outcrops. Commencement of additional exploration work on C2C projects is planned across other projects.

Last August the company entered an option and joint venture agreement with Buchans Resources, pursuant to which Buchans will grant C2C an option to acquire up to a 70% ownership interest in 364 mineral claims (91 km2) covering the Lake Douglas and South Tally properties, located in the Central Newfoundland Gold Belt, Canada. Both properties cover key fault structures considered prospective for orogenic-style gold mineralisation.

New C2C Gold director draws on minerals and energy experience
Sheriff is an entrepreneur and geologist with over 40 years' experience in the minerals industry and is known for his abilities in prospecting across North America. In addition to being responsible for significant capital raises along with corporate development, he was a pioneer in the uranium renaissance as co- founder and Chairman of Energy Metals Corp. and was responsible for compiling the largest domestic uranium resource base in US history before the company was acquired by Uranium One Corp for $1.8bn in 2006.
Presently he is the founder and Executive Chairman of enCore Energy Corp, having led the development of the company from inception to a near term producer with a multi-jurisdictional US asset base.
C2C controls over 1,260sqkm, one of the largest land positions on the Central Newfoundland Gold Belt, including the Badger, Millertown, Barrens Lake, South Tally, and Lake Douglas projects with road access and proximity to communities and power lines. C2C also holds a portfolio of projects within the prolific White Gold and Klondike districts in Canada's Yukon.