Supply Chain & Operations
Epiroc strengthens electric profile with JTMEC purchase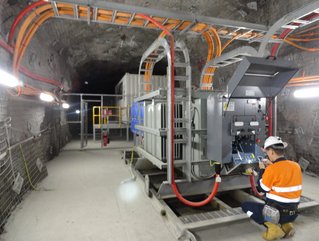 Deal involving Epiroc and JTMEC will support mining customers on their electrification journey toward less emissions and raise mining productivity
Stockholm-based Epiroc is strengthening its electrification profile after buying Australian infrastructure mining company JTMEC for an undisclosed fee. The acquisition is expected to complete in Q2.

Epiroc develops and provides innovative and safe equipment, such as drill rigs, rock excavation and construction equipment and tools for surface and underground applications, and Australia-based JTMEC specialises in providing mines with electrical infrastructure, supporting the industry's transition to battery electrification.
The company, which also offers other aftermarket support as well as solutions for automation, digitalization and electrification, recorded revenues of SEK40 bn in 2021, and has more than 15,500 employees across more than 150 countries.
JTMEC's offerings include high voltage installation and maintenance work, transformer servicing and testing, engineering design, feasibility studies, and training. It also manufactures electrical products including substations and mine chargers.
"Battery electrification represents the future in the mining industry, and the strong team at JTMEC is playing an important role in enabling this vital transformation," said Helena Hedblom, Epiroc's President and CEO.
"This acquisition will further strengthen our ability to support mining customers on their electrification journey toward less emissions, improved work conditions, and higher productivity. JTMEC is also a strong complement to Meglab, which we acquired in 2021."
Hedblom said this year has started off strongly with demand remaining at a high level with orders received up 29% to a record-high BSEK13.8, which corresponds to 18% organic growth compared to the previous year.

"It is encouraging to see the high demand for our equipment, for our solutions within automation, digitalization, electrification, as well as for our aftermarket offering," she said. "Several large- and medium-sized orders were won, of which many included battery-electric vehicles and automation features. The order intake for services was also strong."
Revenues increased 14% organically to MSEK11088 but operating cash flow decreased to MSEK867 (1610), impacted by a build-up of working capital due to strong growth and supply chain constraints.
Its business was negatively impacted in Russia and Ukraine, mainly in March, as it paused deliveries to Russia, but activities in Ukraine have been very limited.
Innovations, acquisitions, and partnerships will strengthen its position as a leading global productivity and sustainability partner.
It introduced Mobius for Drills, a platform that will lead mines towards automation and connectivity, and enables multi-vehicle command, control and monitoring. Epiroc has also introduced a more efficient and powerful blasthole drill rig. Both innovations aim to increase safety and productivity for customers.
Epiroc is also partnering with steel manufacturer SSAB to utilise fossil-free steel in the production of its underground mining equipment.

"It is clear that our innovation agenda goes hand-in-hand with our customers' sustainability agenda. Going forward, we will continue to think new, innovate, collaborate, and create options for the future."