Supply Chain & Operations
Great Southern Copper starts San Lorenzo diamond drilling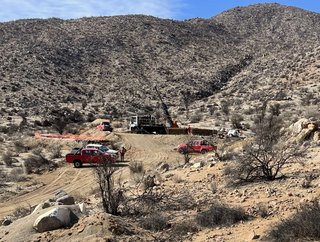 The proposed programme, at the San Lorenzo project in Chile, will target four individual prospect zones across the project with a total of 2,000-2,500m
Great Southern Copper has started reconnaissance diamond drilling at its San Lorenzo project in Chile.
The proposed programme will target four individual prospect zones across the project with a total of 2,000-2,500m of diamond drilling (10-15 holes each at 100-300m depth).
The drilling will test multiple styles of copper-gold (Cu-Au) mineralisation and will enhance the geological understanding of the mineralised system at San Lorenzo and provide vectors for further exploration including follow-up drilling programmes.
Anomalous copper-gold hosted in sheeted vein swarms cutting granodiorite will be tested at both the Central and Chinchillon prospect zones. The sheeted vein mineralisation shows similarities to alkalic-style porphyry Cu-Au mineralisation.

Outcropping copper and gold mineralisation hosted within the upper cuppola zone of monzonite intrusives (exhibiting unidirectional solidification textures or UST) will be tested with shallow drilling (100-200m) at both the Las Hermanas prospect zone as well as the Cerro Blanco prospect zone.

CEO Sam Garrett said: "The shallow drilling programme targeting surface geology and geochemical anomalies at multiple prospects will significantly enhance our understanding of the broader mineralised system at San Lorenzo. The alteration and mineralised system at San Lorenzo is very large and this programme will be critical to further refine our targets for on-going exploration."

Great Southern Copper is a mineral exploration company focused on copper-gold deposits in Chile.

The company has the option to acquire rights to 100% of two projects that are prospective for large copper-gold deposits in the underexplored coastal belt of Chile.

The two projects comprise the San Lorenzo Project, northeast of the coastal town of La Serena in northern Chile, and GSC's Especularita Project located approximately 170km to the south of the San Lorenzo project.

In April, systematic geological mapping and rock chip sampling began at Especularita.
The extensive concession area at Especularita encompasses numerous styles of mineralisation related to Cretaceous intrusives and the overlying volcanics, ranging from gold-rich vein swarms and copper-bearing breccia pipes in the intrusives, to advanced argillic lithocap in the volcanics.
This phase of work will identify targets for detailed follow-up exploration such as trenching, geophysics and reconnaissance drilling.