Supply Chain & Operations
High-grade gold intersected at Kelly's Ridge, Thor confirms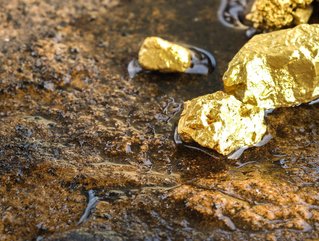 First round of gold-only assays from Kelly's Ridge drilling have been received from the recently completed RC drilling programme at site by Thor Mining
Thor Mining, the Australian mining exploration company, has said that it has intersected high-grade gold at the Kelly's Ridge prospect in Ragged Range, which is located in the Eastern Pilbara, Western Australia.
Gold mining operations
In a statement, the London and Australia-listed mining company said that the first round of gold-only assays from a small portion of the Kelly's Ridge drilling have been received from the recently completed RC drilling programme at the site.
The drilling at Kelly's Ridge was multipurpose, the company explained. It was designed to test below the high-grade rock chips returning up to 15g/t Au and 535g/t Au along the silicified ridge at the contact between Boobina Porphyry and Euro Basalt, it added. In addition, the drilling was testing below and along the strike of the historic drillhole, that intersected 1.5m @ 22.97 g/t gold located at the porphyry-basalt contact, it continued.
"We are delighted to share these high-grade intercepts from Kelly's Ridge. The intercept of 4m @ 12.2g/t Au is an exceptional result under Kelly's Ridge, especially given the depth of the 194m downhole, showing excellent grade continuity from the surface," said Nicole Galloway Warland, managing director of Thor Mining. "This confirms the potential of the site as indicated by historical drilling. Furthermore, with more drilling results to come, we are looking forward to gaining further understanding of the project. We anticipate more positive news to be shared with the market in due course."
Awaiting multi-element mining results
Gold-only results from sections of the first four drillholes confirmed gold mineralisation associated with silicification and sericite-sulphide alteration at the contact between the Boobina Porphyry and the Euro Basalt, the statement continued, adding that the company was still waiting multi-element results.
The significant results received to date include (greater than 0.8 g/t Au): 4m @ 12.2g/t Au from 194m, and 1m @ 0.91 g/t Au (repeat 1.2g/t Au) from 40m, it highlighted.
This small reconnaissance program included six holes along Kelly's Ridge, two below the historic Kelly's copper mine and two at Kelly's NE gold target, the company said, adding that it anticipated receiving all the results from the gold and multi-element assay data within the next few weeks.
The Ragged Range Project covers 92-square-kilometres of exploration licences at one of the best addresses for mining exploration in Australia. It is located approximately 40-kilometres west of Nullagine, in the Pilbara region of Western Australia. The Ragged Range Project area lies on the eastern boundary of the Greatland Gold Panorama project and predominantly comprises of Eastern Pilbara greenstone which is highly prospective for both gold and nickel.