Supply Chain & Operations
IMARC: Mining profits reach new high due to metal boom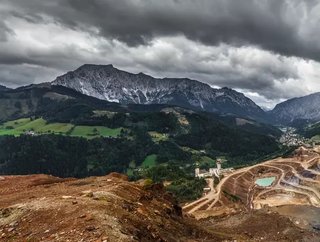 Australia's resources sector has seen new records over the past year, such as gold production in Victoria and exploration in Queensland and South Australia
Australia's mining and resources sector has continued a record-breaking run, with profits soaring, even during a year of COVID-19 disruption. 
More than 11% of Australia's economic activity comes from the mining and resources sector, highlighting the importance of conferences like the International Mining and Resources Conference (IMARC), which enables the likes of Geoscience Australia to showcase their achievements.  
"This past year has been one of the most difficult on record for businesses to not only continue to operate, but also to be able to talk about their achievements and milestones," said Geoscience Australia Director of Mineral Resources and Promotions, Allison Britt.
"This coming year looks to be returning the industry to some semblance of normality with events opening up such as IMARC in 2022, enabling us to network again and to gather again as an industry," said Britt.
Now in its 8th year, the International Mining and Resources Conference (IMARC) is where global mining leaders connect with technology, finance, and the future. It is Australia's largest mining event, bringing together over 8,000 decision makers, mining leaders, policy makers, investors, commodity buyers, technical experts, innovators, and educators from over 130 countries. 
Federal Minister for Resources, Water and Northern Australia, Hon. Keith Pitt, who will be speaking at IMARC, acknowledged the unparalleled contribution made by the resources industry through this crisis.
"Our industry is powering the Australian economy and at all levels of government we need to be loud and proud of what the mining industry has done and continues to achieve. "Mining has always been the lifeblood of the Australian economy," said Minister Pitt.
Gold production in Victoria
Victorian gold production reached its highest level in more than a century in the 2019-2020 period, and according to the Australian Bureau of Statistics (ABS), minerals exploration spending across Victoria is at record levels, increasing 35% to $183.8 million in 2021. 
An increase in demand for critical resources like copper has also led to significant exploration growth within the state. 
"Gold continues to be the most explored commodity in Australia with expenditure in 2020-21 amounting to $1.530 billion, an increase of 32% on 2019-20," said Britt.
 
Increase in exploration spending in South Australia 
South Australia's Department for Energy and Mining reported a steady increase in exploration spending and activities for South Australia, including a renewed interest in nickel, copper, rare earths, graphite, magnetite and uranium – all of which will play a vital role in an electrified society.
"There has been a definite pivot in exploration trends, while traditional commodities and metals still dominate, the landscape is changing to meet the needs of the looming decarbonisation and electrification of our lives," said South Australia's Department for Energy and Mining.
Strategy 2028, Geoscience Australia's 10-year mineral exploration investment stimulus plan, has also recognised this growing need. The strategy has committed to the promotion of mineral exploration investment and the establishment of new areas, including sites for the critical minerals used in battery storage technology. 
Queensland's budget supporting the minerals sector 
The Queensland State Government's recent budget for 2022 promised about $5 million for various programmes, including $2.5 million allocated to the Collaborative Exploration Initiative grants, and $2.2 million to support the development and expansion of the New Economy Minerals sector in Queensland.
This increase reflects the rising exploration expenditure over the past financial year, with the ABS reporting an increase of $638 million to $708 million. Queensland's growth in expenditure for base metals increased substantially over the past financial year, with copper, silver, lead, zinc, nickel and cobalt now at 10%.