Supply Chain & Operations
Jupiter Mines to demerge CYIP assets and create new entity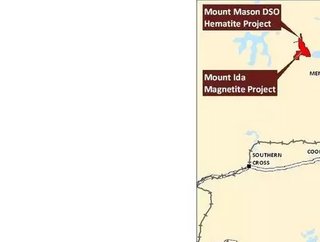 Australian firm says demerger will create an ASX listed company which will progress development of the Mount Mason DSO high-grade hematite project...
The board members of Jupiter Mines have approved the demerger of its Central Yilgran Iron Ore Project assets (CYIP) and a subsequent IPO, a statement from the Australian mining firm says.
The demerger of will create an ASX listed company, to be named at a later date (NewCo), the statement adds. The new entity will work to progress the development of the Mount Mason DSO high-grade hematite project as its primary focus in the near term.
Located 12kms north-west of the Mount Ida magnetite project, the Mount Mason project is part of the Central Yilgran Iron Ore Project, which is located approximately 110kms northwest of the Western Australian town of Menzies. 
CYIP provides Jupiter with exposure to several 100 percent company owned iron ore exploration prospects in close proximity to established road and railway infrastructure. The project covers approximately 490sq kms and consists of the Mount Ida and Mount Mason project areas.
The Mount Mason project is considered to have the potential to be a low-cost start-up, near term project with a short payback period and strong positive cash flows, Jupiter Mines says.
"It is envisaged that the proposed Mount Mason project, upon completion, would lead to mining at the Mount Ida magnetite project," the company says.
The Mount Mason Mining Proposal was submitted for assessment by the Department of Mines and Petroleum in May 2014, and subsequently approved in July 2014.
Following the completion of the positive scoping study, Jupiter completed a feasibility study on the project in 2012. Optimisation of the feasibility study was undertaken in 2014 until the project was placed into care and maintenance until economic conditions improved and infrastructure access can be secured.
The statement adds that the demerger will be achieved via a distribution of the new company's shares in-specie to Jupiter shareholders, in proportion to their existing shareholding in Jupiter.
Furthermore, Jupiter shareholders will also be offered the opportunity to acquire further shares in Newco above their in-specie allocation. Jupiter Mines will retain a minority holding in the new entity. 
Subject to all approvals, the demerger and listing is expected to be competed in the first quarter of 2021, the statement states, adding that further details and a timetable will be announced in due course.
"As previously announced, Jupiter has appointed Greg Durack as the Chief Executive Officer to lead the IPO and implement NewCo's strategy. Greg will also serve as an executive director of NewCo. Other board appointments will be made shortly. NewCo will be headquartered in Perth, to maintain proximity to the CYIP assets," the statement adds.
Post the demerger, Jupiter Mines will become a pure-play manganese company, with the aim of continuing to maintain its strong balance sheet and high pay-out ratio.