Supply Chain & Operations
Kingfisher begins drilling at Mick Well REE project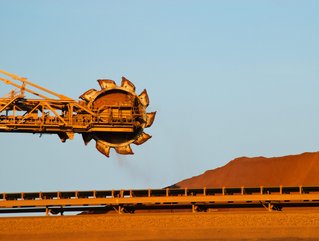 Mick Well REE drilling project to include 39 drill holes for 4,000 metres & will target REE mineralisation at Mick Well project in Western Australia
Kingfisher Mining, the Australian exploration company, has said that drilling is underway at its Mick Well Rare Earth Element project in the Gascoyne region of Western Australia.
Mining project to target high-grade REE mineralisation
In a statement, KFM said that the programme will include 39 drill holes for approximately 4,000 metres. The drilling has been designed to target the high-grade REE mineralisation at MW2, where rock chip results over 40% TREO have been returned, it said. Furthermore, mapping and sampling has delineated five parallel lodes of outcropping mineralisation within a 300-metre-wide mineralised zone.
The cumulative strike length of the five mineralised lodes within MW2 is 3-kilometres, the company stated, adding that all of the lodes remain open in all directions. Furthermore, it pointed out that surface exploration programmes are ongoing and will continue during the drilling programme. This work aims to develop a pipeline of exploration targets in the region, it continued.
"We are thrilled to have the drill programme at MW2 underway. The programme brings together several months of work in mapping, sampling and delineating the surface outcrops of mineralisation at MW2," said James Farrell, Kingfisher's Executive Director and CEO. "Our previous drilling at Mick Well which led to the discovery of the rare earths mineralisation in the area returned high grade mineralisation over 5m at 3.5% TREO. We hope to see similar results from this programme, particularly as we are drilling a target where we have identified an area of well-developed mineralisation at surface."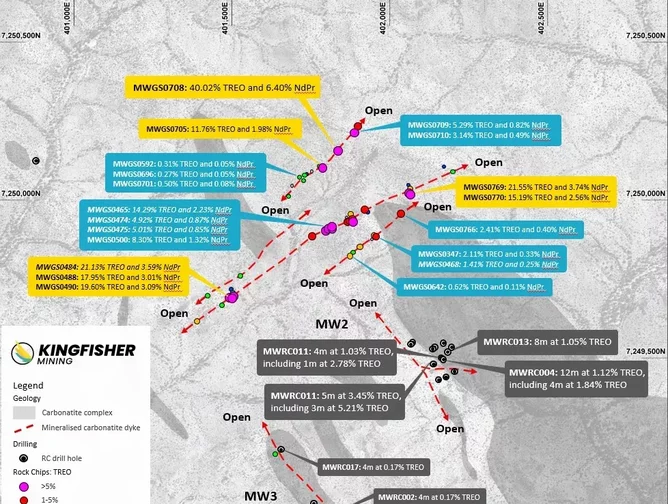 Continuing the drilling campaign for mineralisation
The mineralisation targeted in the current programme is located 500-metres northwest of Kingfisher's discovery drilling in the MW2 area, where previously reported high grade results have included: 5 metres at 3.45% TREO, 3 metres at 5.21% TREO, as well as 12 metres at 1.12% TREO, with 4 metres at 1.84% TREO, the statement added.
The current mapping and rock chipping work will continue during the drilling campaign and will target a large number of laterally extensive high priority targets in a broad area that extends 10-kilometres west-northwest from MW2.
The targets in this area are also associated with carbonatite complexes as well as high thorium and magnetic responses – similar to what has been seen from the newly identified outcropping mineralisation at MW2. Significantly, all of these targets within this 10-kilometre-long area also lie within Kingfisher's target corridor, the Chalba Shear Zone, which extends for 54km across the Company's Gascoyne tenure, it highlighted.
Kingfisher is carrying out extensive and targeted exploration programmes for its Gascoyne projects during 2022. The planned exploration is cost-effective and aims to develop and test drill targets from ground-based mapping and rock sampling. The Company also plans to simultaneously develop a pipeline of exploration opportunities through integrating current and scheduled tenement-scale airborne geophysical surveys with geological knowledge from the Company's breakthrough REE discovery at Mick Well, the statement concluded.