Supply Chain & Operations
Max Resource awarded concessions for CESAR mining project
A total of five concessions have been awarded to Canadian firm Max Resource for the URU district within the CESAR project in Northeast Colombia
Max Resource, the Canadian mineral exploration company, has said it has been awarded a key Mining Concession Contract for a total of five concessions for the URU district, now covering a total of 74- square kilometres and located along the CESAR North 90-kilometre-long copper-silver belt, within the CESAR project in the Northeast of Colombia.
Mineral mining exploration
In a statement, Max said that since late 2021, its wholly owned CESAR project has been awarded a total of twenty concessions, covering a total area of 188sqkm.
"The five strategic URU Concessions provide secure tenure of the 20-km-long URU district, including the URU-C and URU-CE copper-silver discoveries," commented Max CEO, Brett Matich.
"Max's drill site preparation is on schedule for mobilisation of the diamond core drill rig late next month. This will initiate the first ever drilling programme targeting copper-silver mineralisation on its URU mining concessions," he continued.
"Concurrently, Max continues its regional exploration programs along the 90-km-long CESAR copper-silver belt, utilising its approximately US$20m treasury."
The statement added that the company has completed all the approval requirements, which include a detailed Social Management Plan, followed by a Public Hearing with the local community. Each Mining Concession Contract has an initial term of 30-years, and an extension for a further 30-years, for a total duration of 60-years.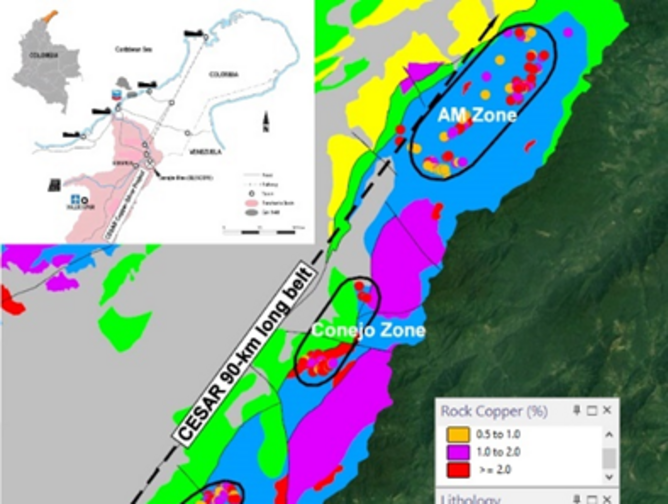 Global mining giant
The CESAR Copper Silver Project lies along the copper-silver rich 200-kilometre-long Cesar Basin in the Northeast of Colombia, the company said. The region provides access to major infrastructure due to the oil and gas and mining operations taking place within it. These include Cerrejón, the largest coal mine in South America, which is held by Glencore, the global mining giant.
Max has stated that it aims to transition the Cesar Basin towards the mining of copper, which will be a key metal for Colombia's transition to clean energy. The company added that it is focusing on three major copper-silver districts individually located along the CESAR 90-kilometre-long belt, with the objective of expanding the zones and defining drill targets, such as:
The 32-kilometres long AM district with highlight values of 34.4% copper and 305 g/t silver
The Conejo district, which averages 4.9% copper (2% cut-off) over 3.7 kilometres
The 20-kilometre-long URU district, which includes the URU-C and URU-CE discoveries, highlights of which are:

7.0m @ 8.5% copper + 143 g/t silver and 16.8m @8.3% copper + 146 g/t silver
The company added that recent results of a high-resolution ground Induced Polarisation ("IP") survey indicated that the defined surface mineralisation of URU-C and URU-CE appears to continue both along strike and at least 200 metres vertically.
It said that it is preparing drill sites to mobilise the diamond core drill rig by late September, initiating the first ever drilling programme targeting copper-silver mineralisation on its URU mining concessions.