Supply Chain & Operations
Meet the CEO: Fiona Hick to helm Fortescue Metals Group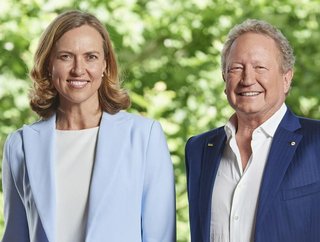 Fiona Hick and Andrew Forrest
Former Woodside Energy exec Fiona Hick will take the reins of Fortescue Metals Group as the firm celebrates 20 years and continues its green transition
Woodside Energy executive Fiona Hick has jumped ship to Fortescue Metals Group.
Fiona, a long-time resources sector leader and president of the Chamber of Minerals and Energy of Western Australia, is set to take charge of Fortescue's core iron ore business in February 2023.
Fiona's appointment follows a year-long search by Fortescue for a leader to take the Fortescue reins following the departure of CEO Elizabeth Gaines a year ago. Elizabeth, who made history in 2017 when she became the first woman to run the iron ore giant, continues to serve as a non-executive director and global green ambassador for Fortescue.
Describing her new position as a "once-in-a-lifetime opportunity", Fiona is tasked with spearheading Fortescue's clean energy initiative as the company continues its transition to a global green metals and energy company.
"We must provide the metals and the energy which will help to accelerate the energy transition," Fiona said. "I join with and commit to… Fortescue's vision of becoming the leading green metals and energy company globally."
Fortescue is leading the green energy revolution
Fiona joins Fortescue at a crucial time – as the company, which celebrates its 20th anniversary in 2023, taps into new commodities, including critical minerals and rare earths, and transitions into a green energy firm.
The world's fourth largest iron ore producer, which recently delivered its second-biggest ever net profit of US$6.3bn, Fortescue is committed to taking a global leadership position in the green energy transition, with Fiona prepped to grow the company into one of the world's most climate-responsible miners.
This includes decarbonising its own operations by 2030, which is two decades earlier than commitments made by most of its peers and further achieving net zero Scope 3 emissions by 2040.
"We are leading the green energy revolution," Fortescue Founder and Chairman Dr Andrew Forrest AO recently said. "For our size and scale, there is no other mining company taking the action we are taking to decarbonise and provide the solutions of the world to reduce emissions."
Among its sustainability targets, aboriginal employment and workplace diversity are crucial with the firm becoming one of the largest employees of Aboriginal people in Australia, and this year achieving 27% female employment in senior leadership roles.
When Fiona takes the company reins in February, she will continue this diversity drive, along with the drive to lead exploration and development into critical minerals and rare earths in the most sustainable way.
Forrest points to Fiona's "natural humility and adaptiveness" as a natural fit for Fortescue's value-based leadership environment. "Fiona has the right personality to lead our metals organisation," he said.
Fiona Hick – from Rio Tinto engineer to Woodside Energy VP
Fiona has spent the last 25 years serving the resources sector, holding leadership roles across mining and energy majors including at Rio Tinto and Woodside Energy, and landing major awards, including securing the 2019 Chamber of Minerals and Energy Western Australia's Outstanding Woman in Resources Award.
No stranger to environmental leadership, Fiona has held various environment-focused leadership roles during her more than two-decade career at Woodside Energy – Australia's top independent gas producer and a top 10 global independent energy company.
Not only did she set technical standards in environmental engineering for the company, but she led a team that delivered all State and Federal environmental approvals for Woodside's exploration, development, and project portfolios.
Serving as VP HSEQ at Woodside for nearly three years, Fiona was responsible for health, safety, environmental and quality function across the company globally – where under her leadership, Woodside landed numerous industry awards for safety excellence and achieved its best personal safety performance in company history.
As Acting Executive VP Operations at Woodside Energy since 2019, Fiona was responsible for the energy company's global logistics, drilling, production, HSEQ, and reservoir management functions – and she was part of the team that led the company through its US$40bn merger with BHP's petroleum division.
Perth-based Fiona kicked off her career as an engineer at mining giant Rio Tinto, where she led the planning and optimisation of Rio's Pilbara iron ore ports.
She is a member of the Australian Institute of Company Directors, Associate Fellow of the Australian Institute of Management and a Fellow of the Institute of Engineers. She is a non-executive director on CO2CC Board Member of Finance.