Supply Chain & Operations
Rio Tinto records 'challenging' mining quarter at Pilbara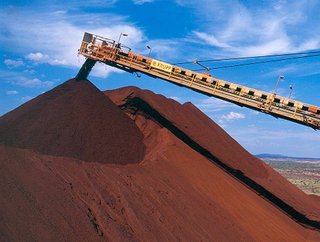 Rio Tinto reports Pilbara first quarter production was 6% lower than Q1 2021 with shipments down 8% year-on-year.
Rio Tinto today reported Pilbara first quarter production was 6% lower than Q1 2021 with shipments down 8% year-on-year.
Pilbara produced 71.7mn tonnes and shipments totalled 71.5mn tonnes.
Commissioning and ramp up of Pilbara growth and brownfield mine replacement projects have continued to be impacted by "resource shortages and supply chain quality issues" including steel fabrication quality at Gudai-Darri and early commissioning failures at Robe Valley, it said in a statement.
The situation has also been compounded by COVID-19 and isolation requirements as cases in Western Australia increased following the easing of border restrictions in March. Moreover, iron ore shipments and bauxite production guidance remain subject to weather and market conditions

Rio Tinto Chief Executive Jakob Stausholm, said production in the first quarter was challenging as expected, re-emphasising a need to lift its operational performance.
"As we ramp up Gudai-Darri, our iron ore business will have greater production capacity and be better placed to produce additional tonnes of Pilbara Blend in the second half," he said.
Capital expenditure for 2022 for existing operations remains unchanged at around US$8bn, excluding any impact of the US$825mn Rincon lithium acquisition, rising to US$9-10bn for 2023 and 2024 respectively.
Exploration and evaluation expense in Q1 2022 was US$168mn, US$10mn (7%) higher than Q1 2021, with continued ramp up of activities in Guinea and Australia.
Aluminium production of 0.7mn tonnes was 8% lower than the first quarter of 2021 due to reduced capacity at its Kitimat smelter in British Columbia following the strike which commenced in July 2021.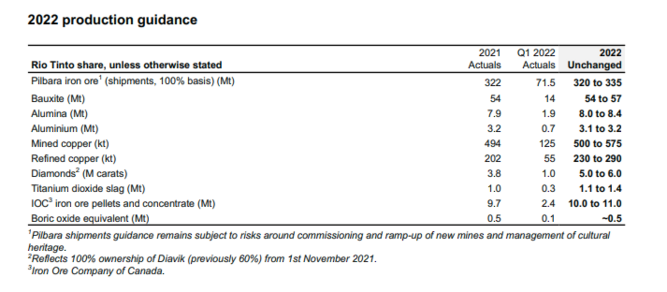 Preparations continue for the Kitimat smelter to progressively restart from June with full ramp up expected by the end of the year.
Mined copper production of 125,000 tonnes was 4% higher than Q1 2021 due to higher recoveries and grades at Kennecott, partly offset by lower grades at Oyu Tolgoi and lower throughput at Escondida.
On 25 January, an agreement was reached with Turquoise Hill Resources and the Government of Mongolia to move the Oyu Tolgoi project forward, resetting the relationship between the partners and increasing the value the project delivers for Mongolia.
Titanium dioxide slag production of 273,000 tonnes was 2% lower than the first quarter of 2021 as a result of equipment reliability issues at Rio Tinto Fer et Titane (RTFT), Canada. Production of pellets and concentrate at Iron Ore Company of Canada (IOC) was 3% higher than the first quarter of 2021, which was impacted by mine feed constraints.
Rio Tinto continues to offer support to team members of Ukrainian and Russian heritage and committed $5mn to humanitarian agencies.