Supply Chain & Operations
Sayona Mining to explore Pilbara gold tenements in Australia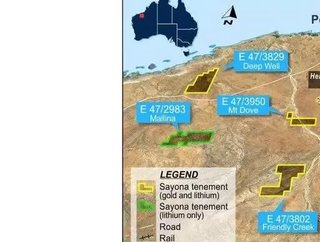 Exploration of targets will include testing for intrusion-related gold mineralisation, emerging lithium miner says...
Sayona Mining Limited (Sayona) has begun exploration of targets identified within 824sqkms of Pilbara gold tenements in Western Australia.
An emerging lithium miner with projects in Québec, Canada and Western Australia, Sayona says this exploration will include testing for intrusion-related gold mineralisation, similar to De Grey Mining's nearby Hemi discovery.
Initial work will focus on the company's Mount Dove Project, E47/3950, located 10kms south‐west of the Hemi project. Fieldwork will include orientation soil geochemistry over two target areas and reconnaissance mapping over the one area of outcrop already identified. Much of the Mt Dove area is masked by surficial cover which has hampered past exploration and the tenement remains effectively untested for its gold potential, according to a statement.
Additional work will also be undertaken at the Company's Tabba Tabba East tenement, E45/4703, which is located near the Malindra Stock and Wallareenya Granodiorite. These high‐Mg diorites of the Indee Suite are similar to those which host the Hemi and Toweranna gold mineralisation further to the west.
Sayona says that the launch of exploration activities follows the resumption of the full ownership of its Pilbara gold and lithium portfolio and comes amid a protracted bull market for gold.
"We are delighted to launch this exploration program, with a recent assessment identifying a number of targets across our 100 percent owned Pilbara gold portfolio," says Brett Lynch, managing director of Sayona.
"The Hemi discovery has highlighted the region's potential and we look forward to unlocking the prospectivity of our large tenement holding for the benefit of shareholders, adding to our flagship Authier Lithium Project and other lithium projects in Canada and Western Australia."
The announcement comes in the wake of record gold high prices in 2020 – above £1,489 per ounce. Investment banks such as Goldman Sachs forecast prices for the precious metal to reach £1,713 per ounce in 2021 amid a 'structural bull market for gold'.
Exploration, including geophysical targeting and planning for geochemical orientation and reconnaissance rock sampling has commenced, the company says. As a first step, sample pulps of 119 previously collected rock samples have been submitted for gold assay determination, it explains.
These rocks comprise pegmatite, aplite and altered intrusive which, together with quartz veining, were collected during past pegmatite exploration and have not been previously tested for their gold content. Geophysical work to identify the subtle magnetic features typical of the target Indee Suite has commenced and following review it is anticipated high resolution airborne magnetic surveying will be commissioned.