Supply Chain & Operations
The mining benefits of scandium oxide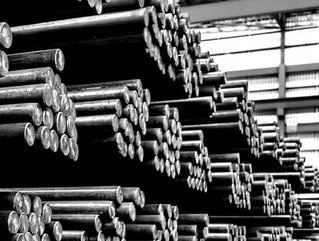 Rio Tinto recently produced its first batch of high purity scandium oxide as it aims to become a key supplier in the global scandium market
Background

Rio Tinto Fer et Titane (RTFT) recently produced a first batch of high purity scandium oxide at its commercial scale demonstration plant in Sorel-Tracy, claiming it is the first North American producer of this critical mineral, together with Element North 21. Rio Tinto has hailed the development as a "breakthrough process" creating value from waste, and it took two years from drawing board to commercial demonstration.
What is scandium oxide?
Scandium is a soft metal with a silvery appearance which develops a slightly yellowish or pinkish cast when oxidised by air. It is susceptible to weathering and dissolves slowly in most dilute acids.

Expect to hear a lot more about scandium oxide as the EV revolution accelerates, and its applications broaden.

Scandium oxide is used to improve the performance of solid oxide fuel cells, which are used as a power source for data centres and hospitals, as well as in niche products such as lasers and lighting for stadiums or studios.

It is also used to produce high-performance aluminium-scandium alloys for the aerospace, defence and 3D printing industries. Numerous applications have been developed in other industries, such as sports equipment with baseball bats, lacrosse sticks and bicycle frames - bicycle manufacturers estimate that scandium enables them to reduce the weight of their aluminium frames by 10-15%.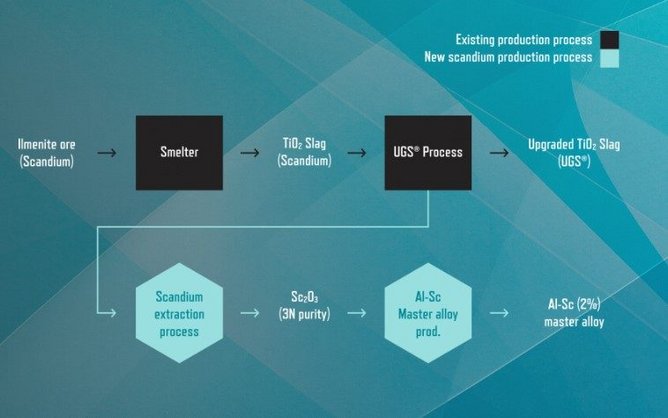 What are Rio Tinto's plans?
Rio Tinto's ambition is to become a key supplier in the global scandium market.
The RTFT team has completed commissioning activities, and is now focusing on production ramp up to bring the plant to its nameplate capacity of three tonnes of scandium oxide per year, representing approximately 20% of the global market. The plant uses an innovative process developed by RTFT to extract high purity scandium oxide from the waste streams of titanium dioxide production, without the need for any additional mining.
The company is also considering near-term expansion options to increase production capacity in line with market demand.
Rio Tinto Iron and Titanium managing director Stéphane Leblanc said: "We are very proud of this first production of scandium oxide. This is a key milestone in the development of a secure supply of scandium, demonstrating our ability to de-risk the global supply chain for this critical mineral."
The global Scandium Oxide market is set to accelerate at a CAGR of 10.2%, according to Market Watch.
What other companies are targeting scandium?
Pensana recently announced an update on results from the exploration programme undertaken on the Coola licence, located 16kms north of the company's Longonjo rare earth project in Angola.
Having identified highly anomalous technology metals including rare earths, scandium and fluorite in soils surrounding the 7 500ksqkm "Coola project in 2020, field exploration activities resumed in Q3 2021, and a range of "very encouraging results" has been reported from the Coola carbonatite and the recently identified Sulima West.
Scandium values of rock chip samples from all lithologies showed highest values of 67ppm Sc and scandium values in soil samples were highest in the breccia and oxidised and hydrated barite rich rock ranging from 30–220 ppm and averaging 92 ppm Sc. The scandium in the carbonatite averaged 25ppm Sc.
Pensana plans to establish the $194mn Saltend facility, near Hull, as an independent, sustainable supplier of the key magnet metal oxides to a market which is currently dominated by China.
What are scandium's drawbacks?
While Scandium has great potential for use in the aerospace industry and in sustainable energy resources, low-volume production and poor understanding of scandium in geological systems limit its use worldwide, according to the Natural History Museum. Only six tonnes of scandium are produced worldwide each year, making it an expensive and low-volume resource (£23,000 per kilogramme in 2014).
A better understanding of the mineral residence and behaviour of scandium in geological systems is needed to develop optimum exploration strategies and increase production.