Supply Chain & Operations
UK's Meridian mineral resource estimate for Cabaçal deposit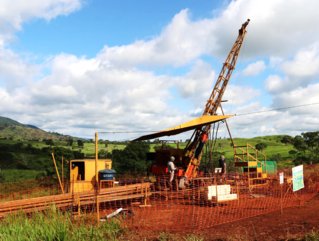 Copper-gold-silver deposit in Mato Grosso, Brazil is 'one of the most significant resources' in the VMS belt, says Meridian Mining
Meridian Mining UK has announced its maiden mineral resource estimate for the Cabaçal copper-gold-silver VMS deposit in Mato Grosso, Brazil.
Significant mining resources in Brazil
Meridian said that the estimate comprises of indicated resources of 52.9 Mt @ 0.6g/t Au, 0.3% Cu & 1.4g/t Ag plus Inferred Resources of 10.3Mt @ 0.7g/t Au, 0.2% Cu and 1.1g/t Ag at a 0.3g/t AuEq cut‐off grade. The mineral resource estimate was provided by specialist group H&S Consultants.
The company added that a technical report will be filed on its website and SEDAR within 45 days of the disclosure.
Gilbert Clark, Executive Chairman, and Dr Adrian McArthur, CEO and President, jointly commented: "Today's Mineral Resource publication confirms Meridian's Cabaçal copper‐gold‐silver project to be one of the most significant resources still held by a junior within a large tenement package covering the hosting VMS belt.
"Meridian's technical team has done a remarkable job in delivering this resource in only 18 months since the start of drilling. The metallurgical work completed by the Company demonstrates that the Indicated Resource category 1.1m ounces of gold, 168 thousand tonnes of copper and 2.4m ounces of silver are amenable to processing through conventional flotation and gravity processes.
"The resource is located at shallow depths and shows excellent potential for a long life stand‐alone open pit within the upside of the greater Cabaçal VMS belt. Ongoing drilling has been very positive, and we look forward to Cabaçal's future development and growth," they added.
Copper-gold mineral mining
The company said that the resource is near surface and extends over 1.9km, with a prominent high-grade shallow gold zone in the Cabaçal Northwest extension. It highlighted that ongoing drilling on the margins of the resource has intercepted strong zones of copper-gold mineralisation, with further drill results still pending.
Located in the state of Mato Grosso in Brazil, the property is geologically located in the Proterozoic Jaurú‐Santa Helena domain on the southwest margin of the Amazon Craton. It comprises of several exploration and mining licences hosting 50 strike kilometres of Proterozoic metamorphosed volcano‐sedimentary stratigraphy prospective for volcanic massive sulphide ("VMS") mineralisation.
BP Minerals originally identified the exploration potential of the belt in the 1980's and completed substantial exploration works including the discovery and development of the Cabaçal Au‐Cu‐Ag mine (then known as the Manati mine), which opened in 1987. Rio Tinto ("RTZ") acquired BP Minerals in 1989 and maintained the property for two years before ceasing production in 1991 and withdrawing from exploration in the general area.
There is no current mining activity on the project area and the aim of Median is to conduct resource definition programs and open‐pit mine development studies focussed on the Cabaçal Cu‐Au‐Ag mine and its extensions. The company is also conducting exploration within the broader belt for new VMS discoveries, the statement concluded.