BHP launches AD$3mn blue carbon grants in Australia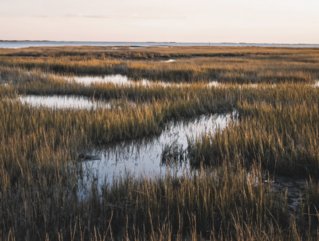 Three-year blue carbon funding programme, with Pollination, will support development of projects in near-coastal ecosystems in Australia
BHP has launched a new AD$3mn grants program to drive the development of blue carbon projects in Australia.

Blue carbon is carbon that is contained in near-coastal ecosystems such as mangroves, seagrasses, tidal marshes and seaweed. The protection, restoration or improved management of blue carbon is a very effective natural climate solution that can significantly contribute to mitigation of CO2.

BHP's Blue Carbon Breakthrough Grant Program will support shovel-ready projects and is now open for applications while BHP's Blue Carbon Enabler Program will support earlier stage projects and is open for Expressions of Interest.

The grant program, offering funding over three years, has been developed with the support of Pollination, a leading climate change investment and advisory firm.

Ashley Preston, BHP's Head of Climate Resilience, said BHP is supporting long term work to assess the scale of blue carbon opportunity in Australia and stimulate the uptake of blue carbon project development in a way that delivers both environmental and community benefits.

"We are pleased to work with Pollination on this grant program, which supports BHP's commitments to action on climate, conservation, restoration and sustainable use of marine and terrestrial ecosystems," she said.

BHP is also currently co-investing with CSIRO in a blue carbon research program, which aims to map and estimate the climate change mitigation potential (measured as CO2-e) of blue carbon ecosystems in Australia, and further develop the science required for estimating other benefits.

Coastal ecosystems such as mangroves, tidal marshes, and seagrass meadows act as deep carbon reservoirs, while marine ecosystems absorb and sequester greenhouse gases (GHG) through the carbon cycle.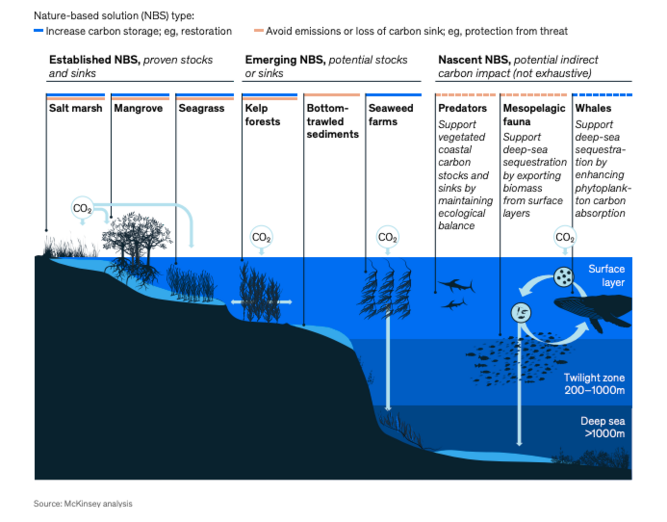 In its Blue Carbon: The Potential of coastal and oceanic climate action paper, McKinsey considers established, emerging and nascent solutions.
The established class of solutions would abate 0.4 to 1.2 metric GtCO2 annually - 1 to 3% of total current annual CO2 emissions. That potential jumps to approximately three GtCO2 of annual abatement (about 7% of total current annual CO2 emissions) if the solutions in the emerging category, such as large-scale seaweed farming and bottom-trawling management, were fully confirmed and implemented.
When it comes to cost, preliminary analytics suggest that about one-third of the total potential abatement would be viable below $18 per metric ton of carbon dioxide (tCO2 ). Nascent solutions that support rebuilding marine fauna might abate one to two GtCO2 annually in the longer term, but the science remains highly uncertain. To put these numbers into context, anthropogenic CO2 emissions are currently about 40 GtCO2, it reports.
To facilitate increased investment in blue-carbon solutions, stakeholders need to "tackle bottlenecks" within financial institutions, companies, and governments, the report adds.

"Concerted action is required, and stakeholders should collaborate to build momentum through demand signals and investments in technology and science," it concludes.

"There is work to do, but the direction is clear: consideration of blue-carbon solutions is both merited and recommended."

To apply for a BHP grant, email: [email protected]