Locus Mining Solutions pushes zero-carbon biosurfactants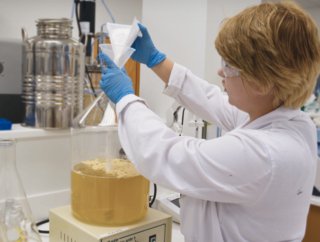 Newly launched division from Locus Fermentation Solutions aims to promote clean energy transition using zero-carbon biosurfactants for extracting minerals
Locus Mining Solutions - a newly launched division from Locus Fermentation Solutions - aims to accelerate the clean energy transition by using zero-carbon biosurfactants to extract essential minerals.
Locus' biosurfactant technology shows potential as a top solution for extracting essential minerals, which is currently limited by declining ore grades and growing ESG concerns.
The green tech start up is addressing a critical need for sustainable mining techniques that can boost mineral and metal extraction in a more environmentally friendly way. When tested in copper extraction, the biosurfactant additives resulted in 138% more acid-insoluble copper recovered and 28% better performance than sulfuric acid.
Locus Mining Solutions' biosurfactant additives are easily incorporated into traditional extraction processes, and require less power, less water and lower transportation costs. This green mining technology generates 40% less carbon dioxide, 70% less sulfur oxides and 70% less nitrogen oxide associated emissions.
"The world's growing reliance on minerals and metals in the transition to a clean energy future is exceeding current extraction capabilities creating an imperative need for sustainable technologies that can reach trapped resources," said Andrew Lefkowitz, co-founder of Locus FS. "Our zero-carbon biosurfactants have an unmatched ability to reach and extract more natural resources. We're addressing critical environmental and economic concerns to transform the industry, reduce environmental impact and support economic growth in the US."
Clean energy technologies require metals and minerals that exceed current supply
Net-zero commitments to decarbonise the world's economies require a move from fossil fuels to renewable energy such as solar or wind power generation, and electric vehicles that rely on batteries and fuel cells.

While this transition is less carbon intensive, there are corresponding implications for mining of the minerals and metals needed, namely copper and nickel, along with lithium, cobalt and other strategic and platinum metals. As an example, a wind-powered energy plant requires nine times greater mineral resources than a gas-fired power plant. And an electric vehicle requires 6X the mineral inputs compared to a gas-powered car.
Remaining ores are low grade and difficult to extract
Locus Mining Solutions enables better extraction and higher recovery of metals and minerals using ESG-friendly biosurfactant additives with a near-zero carbon footprint. The 100% renewable biosurfactants can unlock vast amounts of stranded minerals to meet increasing global demand, with performance metrics superior to traditional recovery methods.
The significance of this reduction cannot be overstated, with the US Environmental Protection Agency (EPA) listing metal mining as responsible for 45% of toxic chemical releases (emitted into the air, water, or placed in a landfill) reported to its Toxics Release Inventory (TRI) program in 2020. In comparison, the next highest tally is chemical manufacturing, responsible for 16% of toxic chemical releases in the US.