Repurposing Hunter Valley mines would trigger $3.7bn boost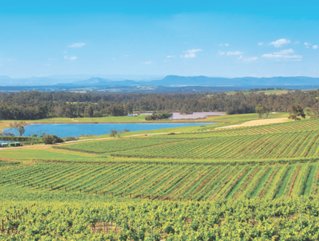 EY and Lock the Gate Alliance report outlines Hunter Valley land repurposing opportunities from the expected closure of 17 coal mines in the next 20 years
Thousands of jobs and more than $3.7bn in economic output could be generated in Australia's Hunter Valley region if post-mining rehabilitation includes biodiversity restoration and repurposing seriously degraded mine sites for renewable energy projects, according to a new report written by EY and commissioned by Lock the Gate Alliance.
The Diversification and growth: transforming mining land in the Hunter Valley report demonstrates how so-called 'buffer lands' - areas of comparatively undisturbed country between mining pits and farmland or towns and suburbs - could contribute to region-wide restoration supporting biodiversity and jobs.
The report used mapping compiled by LTGA that identified land owned by mining companies that could be repurposed for job creation as mines close according to their existing planning approvals.
EY then developed three scenarios to investigate the economic potential of transforming mining land ahead of the expected closure of 17 Hunter Valley coal mines in the next 20 years.
They are the core scenario, or status quo, where mining companies rehabilitate based on their existing approvals; a "maximum conservation scenario", where the extensive "buffer lands" are restored for biodiversity and/or used for farming; and a "renewable energy precincts scenario" which combines biodiversity restoration with clean industrial development on selected areas of already heavily disturbed former mine sites.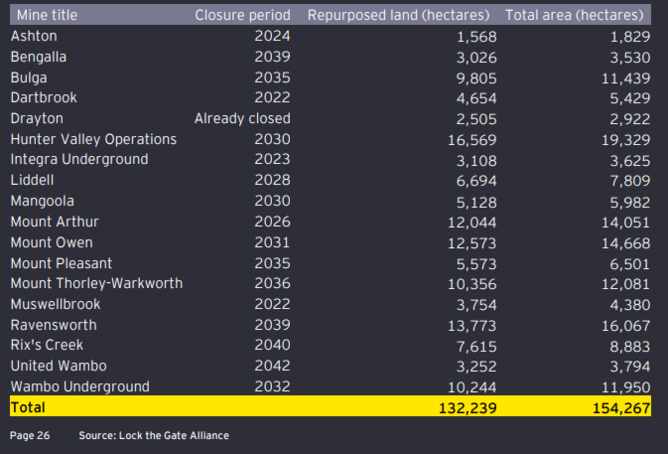 ↵
Key findings from Hunter Valley mining land report
17 mines are expected to close in the Hunter over the next 20 years

The scheduled closure of Hunter coal mines will release 130,000 ha of land for rehabilitation either directly affected by these mines or held by mining companies in buffer lands around them

Extending biodiversity restoration and conservation as well as agricultural investment beyond mine sites and onto "buffer lands" owned by mining companies could increase the economic output of mine closure processes

Under this "maximum conservation" scenario, economic output and employment in the Hunter could be twice that of the status quo "core scenario" during the next 25 years

Setting aside small areas of heavily-impacted land on mine sites for clean industrial development could enable the creation of 13,600 jobs across 10 different industries

The value of manufacturing which supports the renewable energy industry could grow to $3bn over the next 25 years

Just 1,630 hectares of strategically located infrastructure areas on existing mine sites would be needed to generate this jobs and investment expansion

The modeling shows that employment in these industries would ramp up between 2027 and 2041, when several large mine closures are expected.

As well as restoring biodiversity and encouraging clean energy investment, there are opportunities for agriculture to expand over the former coal mining sites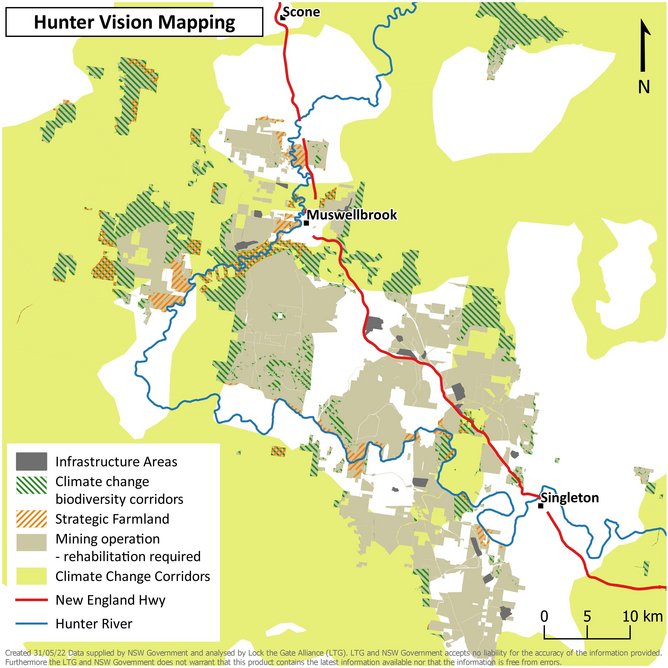 Lock the Gate Alliance National Coordinator Georgina Woods said the Hunter region needs a vision that provides for the flourishing of biodiversity, landscape recovery, and new economic opportunities.
"These findings provide a road map for the NSW Perrottet Government to work with the Hunter community on the path to decarbonisation," she said.
"We also need the new Albanese Federal Government to work together with New South Wales to establish a Hunter Valley Authority that can seize the opportunity to turn the challenges facing the Hunter into thousands of jobs alongside thriving agriculture and biodiversity."
She added the report and modeling shows that working with the Hunter community, governments can create jobs in environmental management, agriculture, energy, and manufacturing if Hunter's rehabilitation is expanded.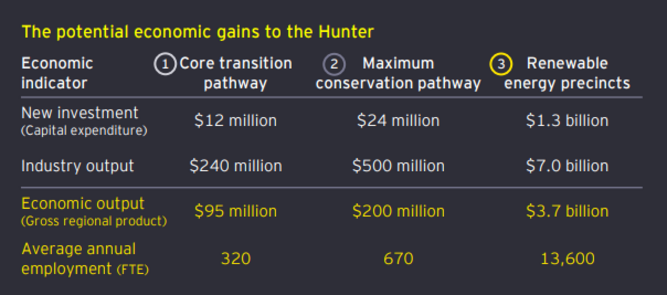 The current mine rehabilitation framework needs to be expanded to create a whole-of-region environmental plan, in consultation with the community, so that we can create sustainable job opportunities and make sure agriculture and biodiversity can thrive and be revived alongside manufacturing and renewable energy, she added.
"The environmental legacy of the mining industry will take decades to manage but New South Wales doesn't have a long-term environmental rehabilitation fund that can pay for ongoing jobs in regrowing forests, restoring the catchment and monitoring pollution," she said.
"A vision like this needs a Hunter Valley Authority to oversee and make it real. We'll be providing the compelling findings of this report to the Hunter Expert Panel and the State Government with recommendations that a Hunter Valley Authority and long-term rehabilitation fund be established and the Hunter's post-mining planning be expanded to include the extensive mining buffer lands."