Rio Tinto takes 15% stake in Sovereign graphite project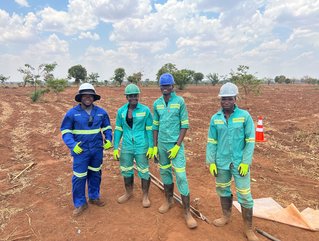 Sovereign's drill team at Kasiya in Malawi
Mining giant Rio Tinto is investing in Sovereign's Kasiya graphite mining project in Malawi, which has a low carbon footprint for lithium-ion market
Sovereign Metals Limited recently announced an A$40.4 million (US$27.5 million) strategic investment by Rio Tinto to take full advantage of the Kasiya Rutile-Graphite Project in Malawi.
This investment will grant Rio Tinto a 15% stake in the Australian mining company – which could rise to 19.99% within 12 months – and will help to unlock significant supplies of low carbon footprint natural rutile and flake graphite.
Rio Tinto will provide technical and marketing expertise as Sovereign looks to focus on the in-demand graphite for the lithium-ion battery market.
"This landmark agreement with Rio Tinto, one of the world's largest and most accomplished global mining companies, is confirmation of Kasiya's place as one of the most significant critical mineral discoveries in recent times," said Sovereign's Chairman Ben Stoikovich.
"The experience and expertise that Rio Tinto brings will truly set Kasiya apart as a potentially globally significant supply of two critical minerals and take us all a step closer to supply chain decarbonisation and achieving net-zero.
"Furthermore, this is yet another step towards unlocking significant benefits from the development of the Kasiya project for Malawi. We welcome Rio Tinto as a major shareholder of Sovereign and look forward to working with Rio Tinto as our strategic partner in the development of Kasiya."
Rich graphite deposits at fraction of global footprint
Located in central Malawi, Kasiya is the largest natural rutile deposit and one of the largest flake graphite deposits in the world.
Sovereign is in advanced stages of a Pre-Feasibility Study (PFS) for Kasiya which will build on the ESS.
Sovereign analysed its own data coupled with an independent benchmarking study by consultancy Minviro to examine the global warming potential (GWP) of natural flake graphite production at the site.
The benchmarking study found GWP of 0.2 tonnes CO2e per tonne of natural flake graphite concentrate produced at Kasiya – putting it significantly lower than Tanzania (0.6 tonnes CO2e) and China's Heilongjiang Province (1.2 tonnes CO2e). This is especially important as Chinese natural graphite production accounts for up to 80-% of global supply.
Kasiya has the lowest GWP compared with currently known and planned future natural graphite projects.
This is down to Kasiya's flake graphite being hosted in soft material which means it can be mined with high-pressure water monitors – mainly powered by renewables in the form of on-site solar and hydro power from the grid.
Production in Heilongjiang Province requires drilling, blasting, excavation, trucking, crushing, and grinding which all contribute to a higher carbon footprint.
In March, Sovereign demerged standalone graphite projects (Nanzeka, Malingunde, Duwi and Mabuwa Projects) into NGX Limited. This allowed Sovereign to focus on its flagship Kasiya Project.