South Africa's Harmony Gold acquires Eva Copper for US$170m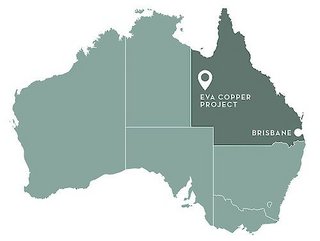 Acquisition of Copper Mountain Mining gives Harmony ability to expand into a Tier 1 mining jurisdiction and allows it to diversify into copper
Harmony Gold, the South African gold mining company, has announced that it has entered into an agreement to acquire Copper Mountain Mining, the entity that owns 100% of the Eva Copper Project in Queensland, Australia, along with a package of regional exploration tenements, for an upfront cash consideration of US$170m, plus a contingent payment of up to a maximum of US$60m.
The diversification into copper will be critical for the global energy transition
In a statement, Harmony Gold said that Eva Copper and the acquired tenements comprise a total of 2,295 square kilometres within the North West Minerals Province in Queensland.
It added that the acquisition of Eva Copper will add 1.718bn pounds of copper and 260,000 ounces of gold to Harmony's Mineral Reserves and will extend the company's diversification into copper, a future-facing metal critical to the global energy transition.
Peter Steenkamp, Chief Executive Officer of Harmony, said: "Acquiring Eva Copper is strategically important to our growth journey. It opens a new copper-gold frontier for Harmony within a highly attractive Australian mining area, supplementing our 50% interest in the Tier 1 copper-gold Wafi-Golpu project.
"Eva Copper lowers our risk profile, providing additional scale and meaningful diversification that positions Harmony for the future," he added, explaining that by diversifying into copper, the company will be able to participate in the global transition to a low-carbon economy."
As Australia is a Tier 1 mining jurisdiction, the acquisition supports the company's strategic intention of growing Harmony's margins and increasing its exposure to copper via investment in high-quality assets.
The company added that mining leases and an environmental authority for Eva Copper have been granted, and an amendment, which reflects updates to the project configuration, is well advanced. The acquired assets furthermore present excellent exploration potential both on-site and in the region.
Harmony said that the project will have a short construction period of two to three years. Ramp-up to full production will be quick due to the shallowness of the orebody. Supporting infrastructure in the surrounding region further mitigates execution risks, it added.
Ultimately, Eva Copper will be a large, high-volume conventional open pit mine, with a low strip ratio, a simple process plant and attractive copper and gold recoveries.
The acquisition also meets all of Harmony's investment criteria and de-risks the Harmony portfolio. It provides a more diversified commodity mix, lower costs, good grades, and capital affordability. This project will be prioritised over higher risk, lower ranking capital projects in the company, it said.
Copper mining in Australia
In addition, Harmony's established and highly experienced team operating from Brisbane, Australia has conducted an extensive and comprehensive due diligence. They will also be the team leading the integration of the acquired assets.
Harmony will fund the transaction with existing cash and available debt facilities. Studies conducted by Copper Mountain estimated that development capital of US$597m would be required to build Eva Copper. The company is currently undertaking a detailed review and optimisation of the existing feasibility study. Once this has been completed, the company will provide an updated development capital figure and its funding strategy. This process is expected to take approximately 12 months and will take into account prevailing market conditions.
The construction of Eva Copper is expected to take between two and three years to complete. Timing of the development capital will dovetail with Harmony's current capital expenditure profile. The peak brownfields expansion, namely Mine Waste Solutions, will be almost complete by the time construction of Eva Copper begins. The project will boost Harmony's capacity to fund further projects such as Wafi-Golpu.
The company said that project approvals and development have been underpinned by comprehensive environmental and socioeconomic studies, further supported by a stable regulatory regime. The project will support Harmony's sustainable development strategy, it asserted.
Eva Copper is an Iron Oxide Copper gold deposit and, together with the exploration package, sits within North West Minerals Province. It is located 75km from the town of Cloncurry and 95km north-east of Mount Isa in north-west Queensland, Australia. The project area has five mining leases and 16 granted exploration permits over 2,100 square km.
Eva Copper has a Mineral Resource base, including the Inferred Resource, of 307m tonnes at 0.42% Cu, 0.04g/t Au for 2.85bn pounds contained copper and 381koz Au and a Mineral Reserve of 171Mt grading 0.46% Cu and 0.05 g/t Au for 1.718 billion pounds contained copper, and 260k oz contained gold.