Airware enhances its drone solution offering to the mining world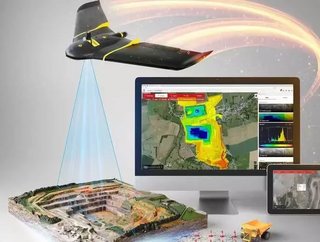 Airware, the international supplier of complete enterprise drone solutions, which only recently acquired the mining data analytics platform Redbird, has...
Airware, the international supplier of complete enterprise drone solutions, which only recently acquired the mining data analytics platform Redbird, has significantly boosted its drone solution offering.
The company, which provides drone solutions to Fortune 500 companies, has announced that it has signed a global partnership agreement with senseFly to "bring survey-grade aerial mapping" to its offering.
senseFly is the world's leading producer of fixed-wing mapping drones and the acquisition will see the use of its survey-grade eBee Plus solution.
Talking sense
With the news of this commercial partnership, the most globally utilized, commercial-grade, large-area mapping drone is now offered as part of Airware's enterprise offering, which includes cloud-based data processing, analytics, and reporting, as well as the training, support, and professional services enterprises need to deploy drones at scale.
"By combining senseFly's globally-proven, large-coverage eBee Plus platform with Airware's unique cloud-based business intelligence, we are creating a truly enterprise-ready solution; a solution that enables customers to safely collect, and act upon, the geospatial data they need, for example when planning operations, calculating extraction volumes, and monitoring a site's evolution over time," said Jean-Christophe Zufferey, senseFly's CEO.
Haven't we met before...
As you may remember, Mining Global spoke with Airware CEO Jonathan Downey as the company looks to define the mining industry's drone use of the future.
"Companies want to achieve more with the same number of machines that they have today and that's where Airware comes in," he says.
What is the eBee Plus?
senseFly's lightweight and durable eBee Plus mapping drone features built-in RTK/PPK functionality, for survey-grade precision, and can document 220 ha (540 ac) in a single 59-minute flight (122 m / 400 ft AGL).
"To take full advantage of aerial data, surveyors demand that their tools provide survey-grade accuracy, efficiency, and flexibility. The eBee Plus more than meets these requirements," said Downey. "Pairing the eBee Plus' aerial efficiency and photogrammetric accuracy with our powerful enterprise-grade workflow enables companies to ensure compliance, enhance worker safety, and capture more accurate, repeatable data to improve decision-making."
Airware will distribute senseFly's eBee Plus across the globe as part of its enterprise solution offering. This solution is available within the global Cat dealers network as elements of the Cat Connect offering, which focuses on improving site and operation efficiency through a suite of industry specific products and services.
As a result, Cat dealers will be able to offer their customers enterprise drone solutions that combine senseFly's automated data collection with Airware's enterprise-focused workflow, professional services, training, and cloud-based analytics that turn aerial data into business intelligence.