De Beers Group launches GemFair app with DDI to ethically source and trace diamonds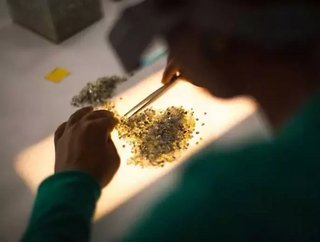 As technology continues to push the boundaries of the possible in mining, the worlds largest diamond company is piloting a digital app designed to incre...
As technology continues to push the boundaries of the possible in mining, the worlds largest diamond company is piloting a digital app designed to increase the transparency and visibility in the supply of diamonds.
De Beers Group has announced this week that it is partnering with the Diamond Development Initiative (DDI) to pilot a technology solution, dubbed a "Diamond Toolkit."
The diamond toolkit, known as GemFair, through the form of an app and dedicated tablet device, will use technology to record Artisanal and Small-Scale Mining (ASM) diamond production at mine sites. This data will then be used to identify mine sites that meet demonstrable ethical standards, with the aim of purchasing rough diamonds from approved locations.
The pilot will run in Sierra Leone where a number of artisanal mine sites are already participating in the DDI's Maendeleo Diamond Standards programme and where significant advancements have been made by the Government of Sierra Leone to formalise the ASM sector.
 
Related stories:
De Beers Group expands into Europe with German diamond licencee partner
Anglo American and Siemens collaborate to accelerate mining technology capabilities in Africa
Innovation and the drive to carbon neutrality in mining
Bruce Cleaver, CEO, De Beers Group, said: "The ASM sector represents a critical income source for many poverty-affected communities. However, due to parts of the sector being largely informal and unregulated, it lacks access to established international markets and the ability to derive fair value for participants. By providing a secure route to market, offering fair prices and helping to raise standards, we hope to play a role in enhancing the prospects for those working in the sector, while also potentially opening up a new source of supply for De Beers over the longer term."
 Dorothée Gizenga, Executive Director, Diamond Development Initiative, said: "The DDI is focused on ensuring artisanal and small-scale miners have access to the opportunities, information and tools that help create self-sustaining communities and formally recognise the sector's contribution to economic development. We believe GemFair has the potential to significantly transform the sector by providing a new and secure route to market through the world's leading diamond company. We look forward to continuing to work with De Beers, the Government of Sierra Leone and all other stakeholders as we progress."
Following the pilot phase, De Beers Group will assess the viability of GemFair and will look to implement the technology with the diamond industry blockchain platform De Beers is currently developing, allowing the ASM sector to participate in the blockchain and providing an added layer of assurance for ASM production.