LlamaZOO: Changing the perception of data in the mining world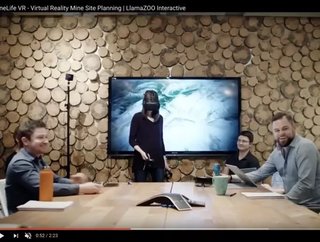 Historically speaking, the mining industry has often fallen behind other industry sectors when it comes to embracing technology and innovation. In recen...
Historically speaking, the mining industry has often fallen behind other industry sectors when it comes to embracing technology and innovation. In recent years however, the technology conversation has begun to change with the implementation of drone technology, data analytics and machine learning and most significantly – 3D mine mapping technology.
The key to this shifting landscape lies in partnering with innovators, entrepreneurs and technology developers from all over the world and combining technology solutions with real-world industry challenges. With some of the world's largest mining companies, including GoldCorp, Teck and Barrick, investing in and striking partnerships with technology providers over recent years, the industry is well and truly beginning to embrace innovation.
"Traditionally speaking, the mining industry has never really been littered with first adopters. Mining has been a certain way since forever," says Charles Lavigne CEO & Co-Founder of LlamaZOO. "There is only so much value in operational efficiency that you can derive from grinding and extracting and processing, you have to take a leap of faith."
"Technology is that leap of faith. By implementing game changing technologies the industry can unlock true value that will set companies apart from their peers."
Founded in 2014 by Charles Lavigne and Kevin Oke, two self-professed video game industry veterans, LlamaZOO was born out of a vision to take their expertise in building highly engaging, interactive and large-scale 3D experiences, and use it to create solutions for real-world challenges.
What it's really about is big data and big data needs to be visualized, be better understood and needs to be analysed using AI and machine learning to be better processed and derive better insights and actionable data from it," says Lavigne. "When you start layering in live data from IOT sensors everywhere, you start being able to paint a broader picture and a clearer picture of the operating conditions and  parameters of a site or a facility or an asset, and then when you visualize it, you create this amazing digital twin,  that can reflect a one to one in a geospatial temporal sense of what is actually happening and what is the historical representation of what has happened."
On the face it and when it's broken down as such, the value of LlamaZOO's technology is easy to see, but as an industry that has long been slow to wake up to technology innovation there lies a culture of risk avoidance. After all, investing in technology can be a costly venture and were that technology to fail, those costs will only continue to rise.
This is something that Lavigne has witnessed first-hand, particularly when meeting with companies and pitching LlamaZOO's innovative technology to them. He feels that as companies demand to see credible use cases and case studies to highlight the return of investment (ROI) then it loses its right to be called a disruptive technology.  The risk then, lies not within the technology itself, the risk comes from not investing at all.
"Some larger companies have already taken that risk and so they're already going be a year ahead or two years ahead of you," he says. "The question has changed. It's not can we afford to spend or should we spend this quarter or half a million dollars of our budget on this technology, it's can we afford not to?"
One such technology solution, is MineLife VR – an innovative system that fuses complex geospatial and mine planning data with IoT data into an interactive, life-sized virtual replica of the planned, current, and future states of a mine site.
"MineLife VR is really collection of the exploration data, planning data and collection all of the extraction and ore calculation and profitability model data, as well as engineering data and operational data," says Lavigne. "Then bringing it all together in one central repository that can be accessed by all stakeholders, both internally and externally, to accelerate their understanding of a project."
In summer 2018, LlamaZOO announced that it had entered into a partnership Maptek, a leading provider of innovative software, hardware and services to the mining industry. Through a collaborative effort, LlamaZoo and Maptek will combine expertise to bring digital twinning and advanced 3D data visualisation to go to market with customers. .
Maptek is but one example of the key partnerships that LlamaZOO has struck with industry leaders, which include Barrick, Teck Resources and Goldcorp and Lavigne feels that through these partnerships innovative technology will begin to have a 'trickle' effect. With larger industry players implementing and utilising cutting-edge technologies, these same technologies will become more and more accessible industrywide.  As the demand for these technologies grow, the technology itself will both evolve and mature, LlamaZOO will avoid the traditional closed system models that are often evident in technology solutions providers. "It's already very accessible. We're talking about a few thousand dollars to access the technology, that eventually it's going to become ubiquitous. Working with the industry is open ended," says Lavigne.
"They want to work with everyone. They want to work with all the integrators, with all the suppliers and work up and down the value chain."
"Our approach is not to build a closed system and I think that is very much exemplified in our early partnership with Maptek and working with a number of partners including IBM, Microsoft and Amazon, so the multi-cloud compatible cloud service providers. It's those integrations across all of these service providers and solutions providers that make the technology more accessible to everybody."
The world has changed dramatically, and technology is to blame. As the mining industry plays catch up, there is a pressing issue that has to be addressed. The industry is currently at a critical point as the result of a generation gap that's about to happen. Over the next five years, there is close to 60% of the entire global mining workforce looking to retire. How the industry handles the transfer of knowledge to the younger next generation of mining professionals will ultimately prove crucial in ensuring that the industry continues to grow and to innovate.
To that end, LlamaZoo works with the University of Saskatchewan to enable and develop the future generation of mining technologists. Coming from a gaming background, Lavigne believes that there is already a world of technology enabled future professionals, they just need the platform to unlock their creativity. "You have decades of subject matter expertise and knowledge that needs to be transferred to the younger generation," he says. "They are our main client and they are better enabled by technology. This generation of client has grown up with a lot of this technology already, whether it's from playing video games to having high powered laptops and computers with accessibility to the internet."
"We need that kind of crossover, that bridging of technology that will allow those communication barriers to be driven down for that knowledge transfer to happen more seamlessly."
Despite the shifting paradigm, the mining industry still has a long way to go before it becomes truly technologically enabled. But through companies like LlamaZoo, the paradigm shift is in full force. Lavigne believes that the company can and will become the number one solutions provider of a complete 3D operating picture of a mine site.  As technology continues to evolve, so too will LlamaZOO, providing solutions that are able to capture even more data that can create a fully holistic picture from operation right through to investment. In order to get there though, Lavigne admits that there is and will continue to be a natural sense of scepticism across the industry. Especially when the company looking to bridge the gap is rooted in gaming technology.
"If you look at the last 20 or 30 years at a lot of ground-breaking, it's video games that have pushed all of these areas of research and development forward to where we are today. it takes a bit of time to kind of educate, inform or fade away that scepticism and that's really where we spend the first few moments of our engagements with clients," he says.
Having worked with innovative technology throughout his whole career, Lavigne remains as passionate as ever about the incredibly powerful tools at his disposal and how they can unlock value like never before.
"I've got to say the one part about my job that I love the most is getting people to try these new technologies and seeing and understanding the potential and the value that it can bring to their organization just by trying it. The first time you put on a Microsoft HoloLens , it changes your world," he says.
"It completely redefines how you can perceive data and it makes you realize that we actually live in a 3D world."