Supply Chain & Operations
Top 10 copper producing countries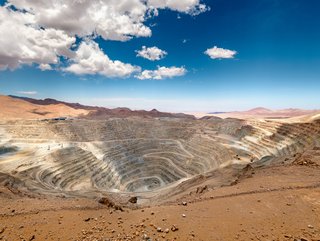 Supply pressures and soaring prices have led to unprecedented market dynamics for leading copper producing countries
The copper market has been booming, surpassing $10,000 per tonne, on account of a 'perfect storm' comprising strong global manufacturing activity, rising demand for electric vehicles, constrained growth in world copper production following the pandemic, low stockpiles, and supply constraints owing to shipping delays.

​​​​​​​Declining production volumes and soaring prices mean it will be a challenging year ahead for leading copper countries. With 5,600 ktonnes of copper mined in 2021, Chile was the top copper producer worldwide, followed by Peru (2,200 ktonnes) and China (1,800 ktonnes). Here are the top 10 copper producing countries.
10: Mexico
Last year, Mexico produced 732,863 tons of copper, showing a 4.6% decrease compared to 768,542 in 2020, CAMIMEX reported. However, copper generated more than US$18bn in exports and together with other metals contributed about 8.3% of the country's GDP.
09: Indonesia
Indonesia is considering implementing a ban on copper concentrate exports from 2023. Currently Indonesian copper concentrates are mainly exported to Asian countries such as China, with small volumes going to Japan.
08: Russia
Occupying eighth spot in the copper producer league is Russia and its copper production was estimated at 820,000 metric tons in 2021. The volume of copper produced fluctuated over the observed period, measuring at its highest at 883,000 metric tons in 2012. In light of the conflict with Ukraine, and sanctions from Europe, it will now be targeting new markets such as China.
07: Zambia
Copper peaked at 720,000 tonnes in Zambia in the 1970s but it has been in progressive decline, and forecast to grow an average 2.2% during 2012-2030, according to Fitch Solutions. Zambia's resource nationalistic rhetoric, coupled with an uncertain debt situation, will be a key deterrent for future copper mines investment.
06: USA
Copper mining in the United States has been a major industry since the rise of the northern Michigan copper district in the 1840s. Copper exports in the United States increased to US$829.92mn in January, from US$746.62mn in December 2021, while copper imports soared to US$1,420.73mn in January, from US$854.03mn in December.
05: Australia
Australia is the third-largest exporter of copper ore in the world and enjoys a 7.1% share of an annual market worth $64.2bn, with Chile (29.1%), Peru (20.3%) leading the trio of top copper ore exporters. China imports 43.2% of Australia's annual copper ore exports and the second largest destination is Japan (28.9%).
04: Democratic Republic of the Congo
DRC is blessed with exceptional natural resources, including minerals such as cobalt and copper, hydropower potential, significant arable land, immense biodiversity, and the world's second largest rainforest. Refined copper is a $4.06bn export market while copper ore ($544mn) and raw copper ($249mn) are also key sectors.
03: China
China's refined copper output totalled 10.49mn mt in 2021, up 7.4% year on year, according to data from the National Bureau of Statistics, and its refined copper production capacity will keep increasing in 2022 amid a rising copper concentrates supply. China's copper consumption will reach 13.65mn tons this year, according to Statista research.
02: Peru
COVID-19 impacted Peru's copper mining sector hard, with production declining around 13% to 2,137.6kt, but there are signs of a rebound this year, with volumes totalling 199,255 tonnes in January, 12.7% up year-on-year. Southern Copper Corp is reportedly close to finalising a deal with a group of communities to lift a protest that led to the suspension of its Cuajone mine.
01: Chile
Chile leads the league of copper-producing countries although it just recorded its lowest January output since 2011, with production dropping 15% from December, and its copper export revenue was $3.836bn in February, down 9.2% year-on-year. Its largest mines include Escondida, Collahuasi, El Teniente, Chuquicamata and Los Pelambres.

The downward pressures provide little respite to a market grappling with low stockpiles and high prices. Chile's economy is strongly dependent on the price of copper, which hit record highs in 2021 but is expected to come down in 2022. High demand for consumer goods is expected to cool considerably, especially in the face of rising inflation – which could send Chile into recession in the second half of the year.