Accelerating the digital mine with a bite-size approach
By Marc Poualion, Global Industry Marketing Head, Metals and Mining, Aspen Technology, Inc.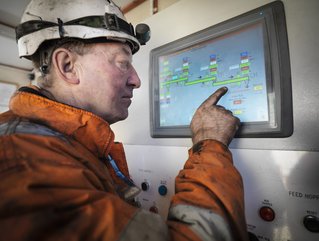 58% of mining execs are investing in mining technology to gain a competitive advantage
AspenTech on how best to accelerate the digital mine with a bite-size approach in 2023 and beyond
Mining has traditionally been known as a laggard in terms of technological adoption. Boston Consulting Group estimates that the mining industry is between 30% to 40% less technologically mature than comparable industries. Therefore, there is a substantial opportunity to generate value by adopting technology that has been proven in other industrial sectors.
Indeed, the pace of transition is accelerating for the mining industry, as it plays catch up in the field of digitalisation. This theme will serve as the undercurrent for the metals and mining industry in 2023 and beyond, as profitability, safety and sustainability weighs heavily on companies.
Powering the acceleration
After the pandemic-led slowdown, the metals and mining industry has recovered quite sharply. The demand for metals has been strong due to decarbonisation efforts worldwide. Battery metals and rare earths are in boom markets, as developed nations are removing hydrocarbon-powered vehicles from production and sale with many governments worldwide targeting zero sales of new hydrocarbon powered vehicles by 2035. Mines need to tap into technology that allows more efficient mining with lesser impact on the environment.
The need for electric vehicles grows in tandem, with decarbonisation, population growth, and the inevitable replacement of gasoline and diesel fueled vehicles. These trends are reflected in the price booms created for Lithium, Copper, Nickel, Manganese, Cobalt among others. This unabated demand will pressure the mining industry to pursue digitalisation and extract existing deposits as efficiently as possible.
Major drivers to catalyse the adoption of technology includes the need to manage complexity in mining, to be more productive, and stay ahead of the competition.
Some companies ramping up today can implement technological best practice from the start. However, many mines in operation are focusing on productivity and are not driven by technology in being efficient, so it is important to realise that while existing mines may be operating, this does not necessarily put them at an advantage. A competitor can come along with a similar deposit in a country with similar fundamentals and implement a digitally enabled, fully automated mining operation and acquire substantial market share with a more advanced technology strategy. Not being at the cutting edge of the technology available can position mining companies at existential risk so technology is mandatory, as it underwrites the future for mines, especially the ones mining lower grade resources.
Bite-size approach
Many industries are facing the dual challenge. Technology is central to decarbonising global economies, such as moving to sustainable power generation, and extracting resources efficiently and safely. The next decade is likely to be focused on driving increased efficiency from current reserves using existing technologies, while scaling the capabilities of technologies being introduced into the market and developing the next generation solutions.
However, it is critical to establish that mining companies are not in the position to simply solve all the challenges facing them at once. Many organisations seek holistic technology strategies but given the vast number of processes, stakeholders and commodities within the sector, it's difficult for organisations to not only know where to start but what will present the most immediate, impactful and measurable effects on productivity, profitability and sustainability.
Hence, the bite-size, targeted deployment strategy is a pragmatic and effective approach. Budgets, time and expertise to support any solutions are limited so priorities need to be made clear. Risk also presents a very real factor that must be considered by leadership teams attempting to implement technological solutions. Adoption of a given technology must be successful or the time, money and potentially the careers linked to those endeavors could be placed at risk if things don't work out. No one wants to be responsible for the failed implementation of a given technological solution as this can have far reaching ramifications for the individual as well as the operation and the company at large.
Planning a technology strategy is actually not the most difficult part, as many people in the mining industry know, planning is one thing, execution is an entirely different beast so it's vital to ensure that when technology vendors are engaged, they are with the customer as a partner for the long haul, and ensure the success of both parties.
Game-changing technology
A key technological innovation in mining and resources right now is machine learning, which is transforming the industry. Solutions empowered by algorithms that can learn from past behavior and adapt to changing conditions can change many operations. With mining companies developing digital strategies to maintain their competitive edge and control increasing costs, many operators are looking to adopt and implement artificial intelligence (AI) technologies.
With the fourth industrial revolution in full swing, the mining industry will see greater access to information that is handled by machine learning algorithms to produce insights that have never been possible before. Insights derived from real-time access to all forms of information as each of the processes and solutions within the mining value chain become more and more integrated allowing for immediately actionable information and the introduction of a truly proactive approach to adapting to changing conditions on the ground.
Leading Australian gold miner, Evolution Mining, focused their efforts on one of the biggest issues in mining today; the cost of equipment maintenance. To address this, the company deployed AspenTech's prescriptive maintenance solution at their Mungari Gold operations in Western Australia, to help mitigate unplanned downtime and provide information to support productivity improvements and have done so, to great effect.
In the future, miners will have the ability to directly influence every part of their operation in real time and deal with issues as they arise. Miners will be empowered by artificial intelligence agents that will propose various solutions and the ramifications of each, which will allow miners to focus more on actual mining activities, and less on retrospective analysis and reporting.