Aggreko and Labyrinth Resources' sustainable power project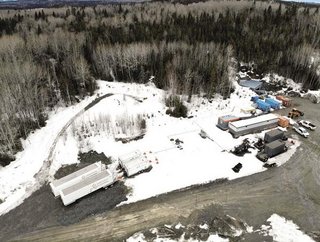 Labyrinth Resources has been working with Aggreko to complete a virtual pipeline power project, which is designed to aid the sustainable energy transition
Aggreko - one of the leading mobile and modular power solutions providers in the world - has been working with Labyrinth Resources to complete a pioneering remote power project, which saves mining costs and facilitates the path to sustainable energy.
The details of Aggreko's mobile mining solution
The remote power project has seen Aggreko devise a virtual pipeline power approach, which enables Labyrinth Resources to deliver compressed natural gas (CNG) in a far more sustainable way.
Aggreko established a CNG power plant, installing two 300 kW natural gas generators (alongside a 60 kW diesel generator, to ensure peak loads could be managed).
The gold mining exploration project took place on a remote site without grid power, located on the Quebec–Ontario border, over the course of five months.
So, in order to successfully negotiate the harsh environment of the mining site, Labyrinth Resources required a portable power solution that could manage the temperature conditions (which can fall to as low as -30°C), minimise the amount of diesel required (due to its high cost), and meet the sustainability standards that the company is working towards.
"At Aggreko, we have deep experience in powering remote locations and providing clean CNG power", commented Geoff Bland, Product Manager for Power Generation and Energy Storage at Aggreko.
"Our equipment and engineers were fully capable of dealing with harsh conditions and reducing emissions."
Deploying mobile power, Aggreko's virtual pipeline power solution saw CO2 emissions reduced by approximately 75 tonnes (compared to conventional diesel generators), NOx emissions reduced by 10 tonnes, and a fuel cost saving of over $300,000, during its 5-month operation.
"The mining industry is undergoing an energy transition as it moves towards integrating renewable and alternative fuel solutions," commented Steve Stafford, Sales Leader for Manufacturing and Mining at Aggreko North America.
"The Aggreko virtual pipeline power solution allowed the customer to get the job done faster, more cost-effectively, and with a significant reduction in emissions."
"We appreciate the support of the Aggreko team," added Matt Nixon, Chief Executive Officer at Labyrinth Resources Limited.
"The selection of a lower-emission fuel source for our power requirements aligns with Labyrinth Resources ESG policies and reinforces that sustainable solutions for our operations are decision drivers, as opposed to afterthoughts."