Investment in safety-related mining technology rising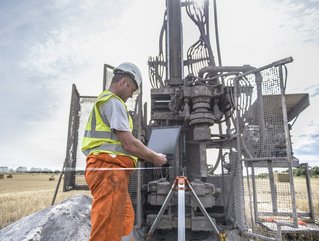 Worker Using Laptop To Survey Drilled Hole Made By Drilling Rig In Field High
Mine-site technology adoption survey says investment in safety tech is rising. We speak with David Kurtz, Research & Analysis Director at GlobalData
GlobalData's recent global mine-site technology adoption survey suggests a greater level of investment in site safety, as well as mine planning and management software.
The survey also highlights investment in mine communication and predictive maintenance, but it is safety-related technologies – such as drones, collision avoidance, and fatigue detection – that are showing the most movement, according to the data and analytics firm.
Its survey of 150 senior mine-site personnel said the share that had invested in drones has risen from 44% to 74% in the past five years, collision avoidance from 62% to 72%, and fatigue detection from 53% to 72%.
Fatigue detection was also high on future spending plans, with 38% saying they intended to invest in the next two years, while 40% would spend on predictive maintenance and 39% on management software.
There were also some interesting regional findings from the survey. When it comes to drones, for instance, 56% of mines use them for safety purposes in Australia compared to just 36% in Africa.
Some 30% of respondents said that they had fully implemented collision avoidance technology, with the largest share in Australasia. The highest share expecting to invest in the next two years is in the Americas (37%).
Mining Digital spoke exclusively to David Kurtz, Research & Analysis Director at GlobalData, to dig deeper into the findings.
When it comes to where investment is being made, is that naturally being driven by the technology itself? For instance, five years ago drones would have been less available, higher cost, and lower quality?
Yes, that is true. There is pressure to ensure a return on investment with any technology spend, and for many miners investment has become more feasible as costs have fallen. Many mining companies are risk averse, with the sector initially slower to adopt new technologies compared with others such as, say, financial services or retail, and mines with only a few years left to run may not see the benefit of new investment. However, as the cost of technologies has fallen and new mines begin operating where use of these technologies can be embedded from the start, so take up has increased.
What are the key regional variations that you see in terms of who are the adopters and who are the laggards?
Over the years we have generally seen mines in Australia lead the way in terms of investment and they have tended to have invested to a greater extent in drones, predictive maintenance and autonomous equipment compared with other regions. As far as other regions are concerned, it has varied depending on the technology – for example, mines in Asia lag behind in areas such as autonomous equipment and remote control.
How would you rate the overall adoption of technology in mining?
It is progressing well, particularly where it can have an impact on key areas such as productivity and safety. We have seen an increasing share of mines extend the degree to which they have invested in areas such as predictive maintenance, collision avoidance and fatigue detection, for example. Some areas, such as autonomous equipment, will see much more selective investment in the short to medium term as they are more suited to particular operations.
What do you think is the biggest opportunity in the next two years?
We would expect an increasing share of miners investing in predictive maintenance, even only partially, as they have gradually moved from reactive to planned to proactive maintenance and then predictive maintenance. It has become much more accessible because of the falling cost of sensors, improved computing power and bandwidth, and general technological advancements. Avoiding machine failures can save hundreds of thousands of dollars a year.
There is a lot of talk about AI, how are mines adopting that technology, and what benefits can it bring?
There are a wide range of benefits to investing in autonomous equipment, which is an example of how AI is being employed. Figures from OEMs and mining companies include 15-30% improvements in productivity, 80% reduction in accidents, 15-25% reduction in operating costs and 15% increase in machine life.
Technology can be a great leveller, do you see smaller mines being able to close the gap on larger majors in terms of efficiency that they currently struggle to do?
Yes, certainly. When we first began surveying mines in 2018, across the various technologies we asked about, on average non-majors had not invested 51% of the time. By 2023 this had fallen to 35%. In contrast, for majors it has fallen from 35% to 26% – so majors are still investing more of the time, but the non-majors are improving well. Looking at where mines stated they had either ''fully invested'' or made ''considerable investment'', the average share across all technologies has increased for non-majors from 15% to 33% between 2018 and 2023. For majors it has risen from 29% to 42%, principally helped by the declining costs and faster return on investment.