Newmont CEO: Mining megatrends are creating a meta-crisis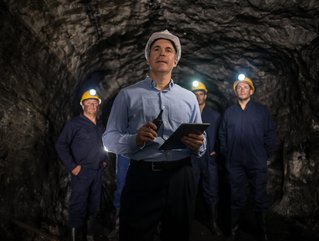 According to the Newmont CEO, there is an increasing demand for accountability and values-based decision-making from society
Tom Palmer, CEO of the world's largest gold mining corporation, shares his top three industry megatrends that may lead to a meta-crisis if left unchecked
Tom Palmer, the CEO of Newmont, the largest gold mining corporation in the world, discussed the trends he is watching at the World Mining Congress recently concluded in Australia. In his view, three industry megatrends are at play, which, if unchecked, could lead to a growing industry meta-crisis.
According to him, society and investors, technological progress, and geopolitical turbulence are the megatrends that could test the management skills of mining executives. "The intensity and velocity of these global megatrends are so universal and disruptive that if, as an industry, we are not agile enough to adapt, align and lead, we will risk losing control of our businesses," he said.
Acknowledging that these trends have already impacted the mining industry and will continue well into the future, Tom Palmer suggests that for each mining organisation to navigate the ongoing disruptive change successfully, it will require knowing, integrating, and living up to their core values because, "Failure to do so will leave us rudderless and at the mercy of these tidal waves of change in society, technology, and geopolitics," he affirmed.
Geopolitics, technology, and society in the mining industry
According to the Newmont CEO, there is an increasing demand for accountability and values-based decision-making from society. He says, "The mining industry must meet and exceed these demands to remain in business."
As a result, he stressed the need for the mining industry to continue meeting society's resource needs in the future energy landscape while ensuring safe and sustainable mining practices. In addition, he stated that there is an increasing awareness of these expectations among the workforce. It is, therefore, imperative that companies meet these needs to attract and retain the best talent.
Speaking about people management in the industry, he acknowledged the need to address problems such as sexism, racism, and harassment in the workplace to foster inclusive and safe environments that attract and retain the best talent.
He said a balance must be struck on technology between transformative technologies and human wisdom, particularly in artificial intelligence (AI) and language modelling. Saying, "It is essential to make people-centric, values-based decisions to govern and harness these innovations responsibly,"
Mining operations have made great use of technological advancements such as automation, remote operations, and artificial intelligence algorithms to improve safety and efficiency and reduce the impact on the environment of their operations. However, Palmer said, "advancing technologies' potential risks and unknown consequences must also be considered" in their adoption.
On the geopolitical front, he spoke about the risks of geopolitics, which are often associated with tensions or actions between countries and corporations, which can significantly affect the standard and peaceful course of international relations. There are many possible causes of geopolitical risks, including internal demographic changes, political polarisation, and economic tensions. These factors can influence where mining companies explore, invest, and operate.
To avoid being entangled in geopolitical risks, Tom Palmer said, "It is crucial for mining companies to navigate geopolitical trends and engage with governments and stakeholders transparently and accountably. Values-based governance and accountability can help create stability and certainty in geopolitical environments."
Because when "taken together, their convergence into a potential meta-crisis has the ability to break the critical social bonds between individuals, communities, and nations," he said.