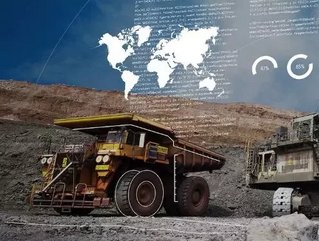 Anglo American is reimaging mining to improve people's lives by leveraging technology, digitalisation and sustainability for FutureSmart Mining
Anglo American's approach to technology, digitalisation and sustainability is changing the nature of the way the company mines. These are the step-change innovations that will transform the nature of mining – how the company sources, mines, processes, moves and markets its products – and how its stakeholders experience that business. Anglo American is transforming its physical and societal footprint with FutureSmart Mining.
FutureSmart Mining
"FutureSmart Mining is our innovation-led approach to sustainable mining," Anglo American's Tom McCulley told Mining Gllobal. In his role as CEO for Anglo American Peru & Group Head of Projects he has overseen investment of more than $5bn at the company's Quellaveco copper project in Peru.
"These are the step-change innovations that will transform the nature of mining – how we source, mine, process, move and market our products – and how our stakeholders experience our business. It's about transforming our physical and societal footprint."
Technology
Anglo is undertaking a feasibility study to assess the possibility of rolling out one of its FutureSmart technologies, Coarse Particle Recovery (CPR), at Quellaveco. "CPR crushes particles to 2.5 times larger than normal, reducing energy consumption and mill time, leading to a 20% increase in throughput and 85% water recovery - a key issue in Peru given the concerns around water scarcity," says McCulley.
"By allowing water to release from the much coarser particles, CPR will reduce the risks associated with wet tailings and ultimately help eliminate them altogether. When combined with low cost additives, it is possible to dewater residual waste and produce dry stackable tailings. This technology remains a focus area for us as water sent to tailings facilities often represents the largest water loss at a mine."
Digitalisation
Quellaveco is going to be the first mine to run the FutureSmart operating model from day one. Anglo's idea is to build a stable base on which it can layer new technologies, CPR being one of them. 
"We will also be a fully digital mine, which brings us future benefits in terms of understanding and applying changes in real time," adds McCulley. "Our trucks and our drills will be automation-ready. We have taken the approach that, when we decide to move into an autonomous operation, no jobs will be lost, but the nature of some people's jobs will have to change."
Sustainability
FutureSmart is a blend of technology and sustainability," said McCulley in an interview with Global Business Reports. "If you go back to the vision and design of Quellaveco, it has really been focused on the long-term sustainability of the mine through effective use of things like water, energy and the environment. Quellaveco has been focused on technology such as automation, with digital and analytical tools all coming together. We will be looking at future technologies to bolt on as we go to ensure that we are optimizing the sustainable use of resources and remaining cost-effective."
Quellaveco
Anglo American's Quellaveco copper project in Peru has created 15,000 jobs during construction and approximately 2,500 jobs are planned for operations, increasing Peru's copper production by a forecast 300,000 tonnes per year. The mine's first copper production is expected in 2022. To learn more about Anglo American's Quellaveco copper project read our feature here.