Supply Chain & Operations
6 Mining Careers with Higher-Than-Expected Salaries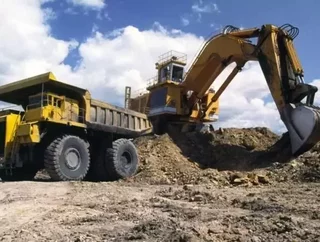 Ex-NFL superstar Deion Sanders famously stated: "If you look good, you feel good, if you feel good, you play good, if you play good, they pay good...
Ex-NFL superstar Deion Sanders famously stated: "If you look good, you feel good, if you feel good, you play good, if you play good, they pay good."
Surprisingly, that logic can be applied to the mining industry.
For employers, salary is usually based off criteria like experience and qualifications of an employee, size of the company, and region they're operating in. If a candidate meets or exceeds a company's prerequisites the doors of opportunity are significantly expanded. And if you work well, mining companies are more than willing to pay well.
If it's all about the benjamins for you these are the six positions you need to start applying for immediately.
1. Trade and Skilled - $100,000 and up
Operators, technicians and miners fall under this category. Depending on the company and the region of work this number can change dramatically. Case in point: Jumbo operators in Australia earn roughly $165k per year, while operators in other parts of the world only bring in $111k.
Training, education and working conditions also factor into pay. If you have the experience and are willing to submit to the hazardous conditions, working underground is the way to get paid. Reports suggest underground miners in various parts of the United States and Canada earn in excess of $150,000 per year. 
2. Health and Safety - $110,000 and up
The mining industry is striving to make operations as safe and environmentally-friendly as possible. This means professionals in the occupational health, safety and environmental sectors are going to reap the financial benefits.
The average annual salary of an environmental officer ranges between $60,000 and $115,000. A top level occupational health and safety professional, however, will earn close to $190k a year.
3. Metallurgist - $220,000 and up
Metallurgist are one of the highest paid employees in the mining industry. A Graduate Metallurgist right out of the gate will earn between $50,000 and $90,000 per year. Their ability to study the properties of metals and their knowledge of extraction, casting alloying and heating treatment of metals are music to an employer's ear. That's why salaries for the position range the $220k and up category! 
4. Geologist and Geosciences - $200,000 and up
If you're looking to enter the mining industry as a Geologist there are typically two categories: Mine Geologist and Exploration Geologist. The role of a Mine Geologist is to ensure that mining occurs in the right places and sampling is carried out accurately. The Exploration Geologist is responsible for resource discovery and evaluation. Nevertheless, both professions pay generously and salaries range from $90,000 to $230,000 per year.
5. Engineers - $230,000 and up
The mininig industry may be experiencing tough times but engineering salaries are flourishing. In fact, engineering positions rank the third highest paid jobs among the industry. Senior Engineers can expect to earn upwards of around $230,000 per year. 
6. Management - $250,000 and up
If you want to make it rain in your mining career, management is the way to go. Working as a General Manager, Project Controls Manager or Site General Manager will earn you a salary in the $250,000 - $350,000 per year range. 
The two highest profile positions on a mining project are typically a Project Director and Drilling Operations Director. The Project Director provides the strategic leadership to the project while the Drilling Operations Director provides the overall planning, direction and execution of drilling operations for the mining company.