Supply Chain & Operations
BlueRock Diamonds: The junior diamond miner with global ambitions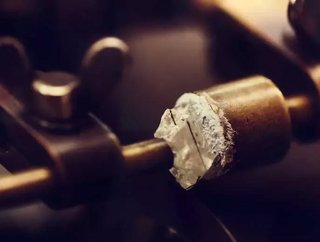 "In mining, as with any project, the proof of the pudding is the results, and the last two years have shown some really great results for us," says...
"In mining, as with any project, the proof of the pudding is the results, and the last two years have shown some really great results for us," says Adam Waugh, CEO of BlueRock Diamonds.
BlueRock Diamonds, established in 2012, is a diamond exploration company founded with one principle – to acquire or invest in under-exploited diamond mines in South Africa and sub Saharan Africa.
The company's flagship operation is the Kareevlei Diamond Project, a 3,000-hectare mining right in the Northern Cape Province of South Africa. An open-pit mining plan has been in operation at Kareevlei since late 2015, but the drilling work and mining exploration was first conducted back in the early nineties. In the time since, multiple companies have come and gone, completing light exploration, drilling work and sampling before striking out.
BlueRock Diamonds acquired the mining right for the Kareevlei tenement back in 2013 and soon discovered five known diamondiferous kimberlite pipes.
Following a trial mining period in 2014, utilising a mining plant that had been put in place from a previous company, BlueRock realised that there was more to the site than had previously been established.
"The trial mining period was conducted using a mining plant that we'd acquired and it wasn't long before we'd begun to recover a very small number of diamonds," says Waugh.
"We realised in actual fact, the value of these diamonds was much bigger than we first thought, partly because they were courser and partly because the percentage of the gem-quality diamonds was much higher."
So, this begged the question: why hadn't any of the previous organisations discovered as much? The answer, Waugh believes, is that during the nineties and even throughout the early 2000s, there was a thoroughly different mindset throughout the diamond exploration industry.
"People were more interested in looking to be the next big show in town, to find the next big thing," he says. "And so, to a certain extent, at that time, with the work they did, it was small in terms of resource and with a low grading. It really was unexciting.
"That's why those parties didn't really take it any further than small scale exploration, because the data they'd uncovered at that time just wasn't what they were looking for."
Fast forward to 2018 and BlueRock Diamonds is coming off of the back of a hugely successful year with Kareevlei. BlueRock published a report in late 2017 that revealed that the company was recovering higher quantities of larger, higher value stones, and its value per carat places it within the top 10 kimberlites in the world.
"The late 2017 release was key, because it showed a production tonnage of 25,147 tonnes [November 2017]," says Waugh. "We've targeted 25,000 tonnes a month and on average, over the last four or five months, we've hit in excess of 20,000 so we are able to demonstrate that the mine plan is working and consistent."
This success is certainly no small feat, considering that when Waugh joined the company in 2015, BlueRock was struggling.
From an over dependency on failing suppliers, contractors down to a breakdown of communication and overall strategic direction across the management, Waugh had something of a task on his hands.
Entering as a non-executive Director, he headed out to South Africa to get a feel for the organisation and, more importantly, the Kareevlei Diamond mine operation.
"It was important that I came out here to get to know the team, the way of working, the operation and then report back to the board," says Waugh. "It is fair to say that I uncovered some inefficiencies that the board had increasingly become uncomfortable with, and following further investigation, decided that the operating team here in Kimberley needed to change."
Over the course of the following 12 months, Waugh set out to make wholesale changes. These changes included changing the structure of the team, the way the company was operating the mine, the way the company worked with third party contractors and even the process of diamond recovery.
One element that was crucial to the transformation of BlueRock Diamonds' fortunes, and something that is integral to the success of any mining operation, is the relationship that the company had with local government and the regulator.
In BlueRock's case, there was room for improvement.
"It's incredibly important," says Waugh. "We were actually on the wrong end of it in 2016 and this was down to our compliance procedures, or lack thereof."
This in fact saw Kareevlei shut down by the regulator until it was satisfied that the company could in fact comply with mining regulations. This, of course, proved difficult as it forced Waugh and the board of directors to ask questions as to where the company would proceed from this point forward.
"We had to ask whether we wanted to mine any more, or whether we were in a position to help the mine or whether it was a lost cause," he says. "So, we know first-hand just how important it is to be compliant and to have that relationship."
BlueRock committed a significant amount of time and investment towards rectifying this on its journey to becoming a compliant mine organisation. The problem that Waugh discovered, was that there was no real culture of regulation and compliance prior to his arrival.
"There was a real lack of compliance and I'd go as far as saying no respect for the regulator," he says. "There was a cultural belief that because we were a relatively small mining operation that we wouldn't be noticed. But truth be told, being closed for a lack of compliance is an absolute disaster for a diamond mining company."
The hugely successful end to 2017 could not be achieved without getting this incredibly significant component right in the first instance. In fact, Waugh can boast of an organisation, and an operation, that no longer thinks about compliance and the regulator anymore as it has become that ingrained into company culture.
Despite this confidence, it's still vitally important that measures are in place to ensure that alongside compliance, complacency does not follow. Waugh looks to the past to embrace the future.
"In any situation where things go wrong, you ask yourself why," he says. "And the answer was quite simple, there was no training, nobody in the operation from management down to the guys out in the field had been exposed to any form of training to understand the importance of compliance and just how its implemented across the operation."
Waugh has sought to change this, taking management and a number of key individuals in the Kimberley department to regular seminars and conferences, introducing regular training sessions and dedicating a significant amount of budget towards creating a safe, compliant, efficient and ultimately successful operation.
"Really, it's about understanding where the responsibilities are and understanding just how much you are responsible for the important things," he says.
"How to operate the machinery, how to establish and ensure a safe working environment, physical health – these are all things that, on paper, are basic, but through a cultural ignorance were completely ignored.
"That said, I can proudly say that right now we have a 100% safe and healthy working environment for all staff."
So, BlueRock's transformation has been quite the success story. Establishing itself as one of the top 10 kimberlite producers in the world, surely this would draw attention from some of the leading players in the diamond industry. Should they be looking over their shoulders?
"We aren't interested in competition," jokes Waugh. "What this says about BlueRock is that we should be noticed because of the quality of our goods, but also the consistency and predictability. As we look to the future, the demand for the production of kimberlites is only going to improve.
"We are a small diamond mining junior and we are making a statement. We are firmly cemented in that top 10 and so people will look at what we do, what we produce and pay high value for those goods."