Supply Chain & Operations
Low-carbon aluminium gathers momentum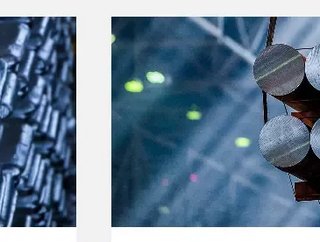 Rusal and Rio Tinto are actively targeting low-carbon aluminium amid soaring global demand
Low-carbon aluminium is in the news, featuring in COP26 discussions and a key focus for leading producers and miners.
With global aluminium demand projected to grow by more than 50% by 2050, the industry is looking for ways to reduce its environmental impact.
Producer Rusal has pushed its low-carbon credentials in recent years and more than 98% of the electricity required for its aluminium production comes from renewable sources. Its Allow brand, produced using hydropower, has a low-carbon footprint. 
Rusal has been analysing how best to overcome technological barriers, which currently prevent further decarbonisation of the initial stages of the primary aluminium production and supply chain. These include bauxite mining, alumina production and metal electrolysis. 
This month Rusal, together with KUMZ, successfully launched the production of various rolled and pressed semi-finished products from an aluminium-magnesium-scandium alloy of grade 1581. ‬‬‬‬‬‬‬‬‬‬‬‬‬‬‬‬‬‬‬‬‬‬‬‬‬‬‬‬‬‬‬‬ ‬‬‬
As part of this collaboration, KUMZ organised the commercial production of plates and sheets from ingots, produced by the Krasnoyarsk aluminium smelter in accordance with a specially developed rolling technology. 
In April,  it launched its new brand of aluminium-scandium solutions, ScAlution. Due to their technological, physical and mechanical properties, these alloys contribute to making vehicles lighter in weight, reducing fuel consumption and air emissions.
Carbon free aluminium smelting for products ranging from smart phones to cars and drink cans is a step closer with Elysis recently reporting it produced aluminium without any direct greenhouse emissions at its Industrial Research and Development Center in Saguenay (QC), Canada.
Alcoa and Rio Tinto launched the Elysis joint venture in 2018. The inert anode technology now being scaled up builds on a process first developed at the Alcoa Technical Center outside of Pittsburgh.
Ivan Vella, chief executive, Rio Tinto Aluminium, said: "This is a significant step in reinventing the aluminium smelting process which is well over 100 years old. It will help address the paradox that aluminium is – a material that is critical for the decarbonisation of the world, but also currently one that is very carbon intensive to produce. Rio Tinto looks forward to bringing this breakthrough zero carbon technology to the market and supplying our customers with the green aluminium they are expecting."
Rio Tinto invests $87 million in low-carbon aluminium production
Rio Tinto is investing US$87 million to increase its low-carbon aluminium production in Canada with 16 new smelting cells at its AP60 smelter, in the Saguenay-Lac-Saint-Jean region of Quebec.
The investment will increase production at the smelter by around 45 per cent, or 26,500 metric tonnes of primary aluminium per year, to a capacity of 86,500 metric tonnes and provide a secure future for approximately 100 employees who work at the facility.
The company projects that the global aluminium market will grow at an average rate of 3.3% per annum over the next decade with strong demand driven by the energy transition and decarbonisation.
Vella said it is committed to strengthening its position as a leader in low-carbon, hydro-powered aluminium production to meet the clear demand from our customers in North America and Europe.
"Our AP60 technology is one of the most energy efficient, environmentally friendly and cost effective systems in commercial production today. It produces some of the world's lowest carbon aluminium with renewable hydropower here in Quebec. We are assessing options for further investments, as we progress development of the ELYSIS zero carbon smelting technology with our partners."
The new pots will be built in the existing building of the Complexe Jonquière's AP60 technology centre, which currently has 38 pots. Work will begin in the spring of 2022 and is expected to be completed by the end of 2023. At the same time, Rio Tinto will study the potential to add more AP60 cells at the site.
The AP60 technology was developed by Rio Tinto's research and development teams, including the Arvida Research and Development Centre, and generates seven times less greenhouse gases than the industry average. Since their commissioning in Saguenay in 2013, the initial AP60 technology pots have produced more than 465,000 tonnes of low-carbon aluminium.
More transparency on low-carbon aluminium prices
S&P Global Platts began publishing low-carbon aluminum price assessments for the European markets in April.
The new daily assessments include a Low-Carbon Aluminum Price (LCAP), and a Zero-Carbon Aluminum Price (ZCAP) and complement existing Platts European price offerings for high-grade primary aluminum (P1020).
Ian Dudden, Global Pricing Director for Metals and Agriculture, S&P Global Platts, said the launch of its green aluminum assessments follows extensive engagement with market participants throughout the aluminum value chain.
"These new prices align with S&P Global Platts' strategic focus on offering ESG-related commodities pricing, and are in response to requests from market participants for new pricing transparency to help them quantify cost and manage risks and opportunities associated with a growing focus on carbon-reduction strategies and increasing global regulation."