Supply Chain & Operations
TLT Turbo Africa fans boost ventilation and savings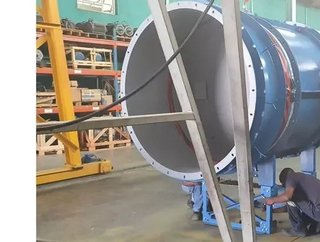 Capital pay-back on two dual-stage fans has been less than three months...
TLT-Turbo Africa's new range of auxiliary and booster fans have not only improved ventilation in deep mines but yielded capital payback in under three months.
The company was approached by an ultra-deep mining operation located in Gauteng, requiring a recommendation for a suitable fan.
"Following numerous engagements, our Engineering and Research and Development teams set out to develop a customised solution, utilising our high efficiency A&B fan range," Vusi Madlopha, TLT-Turbo Africa Head of Sales & Business Development relates.
At the time, the operation was using multiple installations of auxiliary fans to deliver the required volume and pressure (consuming ±630kwe). The mine was also operating three main surface fans, each consuming ±2MW of power.
Based on an assessment of the mine's needs, the final recommendation made by TLT-Turbo Africa was for two MC1600AP-160KW dual stage fans from the newly launched A&B fan range (specifically 1600mm diameter, dual-stage fans, each fan driven by two 160kW high-efficiency motors).
The R&D team custom-designed the required fans to be modular, allowing their transport through shafts and access tunnels and once on site, they were easily assembled.
Three months after the installation, conditions underground at the shaft have improved noticeably, particularly in the previously warmer upper levels.
The installation and commissioning of the TLT-Turbo Africa fans has allowed the mine to permanently remove 14 other auxiliary fans (with a total rated power of 630kW). 
The capital pay-back period on this project has been less than three months and with the lifespan of this project exceeding 10 years, the implied electrical cost savings of this solution are massive, the company states.