Supply Chain & Operations
What is Rio Tinto mining's CEO discussing in Mongolia?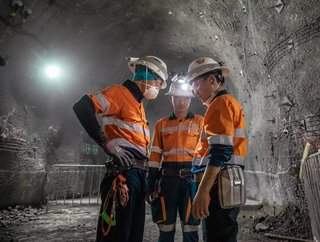 Rio Tinto boss, Jakob Stausholm is visiting Mongolia to discuss delays at Oyu Tolgoi, which leverages new technology for sustainable copper production
The last thing an executive of a billion-dollar company wants to hear is that a project will experience a delay. Following setbacks, which will result in production delays at the Oyu Tolgoi mine in Mongolia, the Chief Executive Officer of Rio Tinto, Jakob Stausholm has taken a trip to the country to meet with its Prime Minister, Luvsannamsrain Oyun-Erdene.
The copper and gold mine began construction back in 2010 and is said to be one of the safest and most sustainable mines in the world, leveraging new technologies and mechanical equipment to carry out more efficient mining operations. 
The trip to Mongolia was provoked by delays in the construction of the mine, which is proving costly for the business. Stausholm believes these delays are the result of geotechnical difficulties and COVID-19. These delays have caused issues among the Mongolian government and Turquoise Hill, the two main shareholders in the project. 
Stausholm said in a LinkedIn post, 'this week for the first time since becoming Chief Executive, I was able to return to the beautiful wintry country of Mongolia, home to Oyu Tolgoi, the world's largest greenfield underground copper mining project'.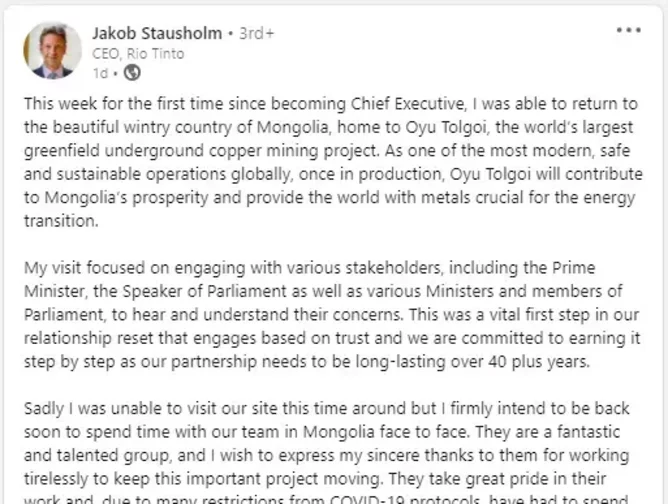 Rio Tinto negotiates the terms of mining delays
The trip to Mongolia is necessary, according to Stausholm, to come to terms with each organisation's concerns and perform a 'reset'. 
'This was a vital first step in our relationship reset that engages based on trust and we are committed to earning it step by step', Stausholm said. 
In October, Rio was forced to delay the first production at Oyu Tolgoi, until January 2023—three months later than the previous start date—after Turquoise was made aware of the need for further funding of around US$3.6bn. As a result, Oyun-Erdene believes Rio should be held liable for the delays and the company could be held accountable for any additional expenditure and remove any debt from the government to ensure the project is profitable. 
The development of Oyu Tolgoi
Leveraging new technologies more mining efficiency, Oyu Tolgoi is one of the world's most sophisticated mines, which is set to produce around 480,000 tonnes of copper resources per year, during its peak operational period—from 2028 to 2036.