Caledonia's Blanket Mine in Zimbabwe receives solar power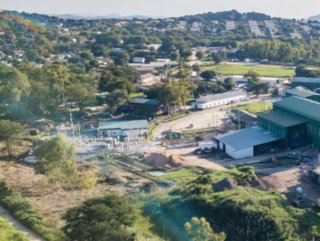 Unstable and unreliable power supply behind the decision to construction the 12.2MW solar power plant at Caledonia's Blanket Mine
Caledonia Mining Corporation, the Jersey-headquartered gold producer, has said that a new solar plant at its Blanket Mine in Zimbabwe has started generating power and will, in due course, provide approximately 27% of the mine's average daily electricity demand.
Solar power energy for Blanket Mine
In a statement, Caledonia said that the decision to build the 12.2MWac solar plant was made in late 2021 due to the unreliability of Zimbabwe's electricity supply. Blanket Mine currently receives its power from ZESA, Zimbabwe's national electricity supplier, but it has been subject to load-shedding and unstable power supply in recent years.
Due to the economic and safety implications this caused for the underground mine, the company supplemented the power supply with standby diesel generators to ensure uninterrupted mining and capital operations. However, diesel-generated electricity is expensive, subject to an unpredictable supply of diesel and creates an unfavourable environmental footprint, the mining company highlighted.
Therefore, given the economic, environmental, and logistical challenges of running large-scale diesel generators for extended periods, Caledonia began construction of the solar plant, Mark Learmonth, Chief Executive Officer, said.
"I am delighted that the solar plant is connected to the Blanket grid and from today Blanket will start to receive some of its energy directly from solar.
"With 21% of Blanket's on-mine costs relating to energy usage, this solar plant is a very important project for the Company as it will improve the quality and security of Blanket's electricity supply and provide environmental benefits through cleaner energy. The solar power will displace more expensive power from the grid and from the diesel generators and is expected to reduce Caledonia's consolidated cost per ounce of gold produced by approximately US$37," Learmonth explained.
Record levels of gold mining production
In October, Caledonia said that gold production from the Blanket Mine reached record levels for any quarter. For the quarter ended 30th September 2022 (Q3 2022), the company said gold production was 21,120 ounces, a record for any quarter.
It was an 11% increase on the 18,965 ounces produced in the corresponding quarter of 2021, it added. The gold produced in the nine months to 30th September 2022, was 59,726 ounces, 22% more than the 48,872 ounces produced in the nine months to 30th September 2021.
Gold production for 2022 is expected to be between 73,000 – 80,000 ounces, the company added.
Commenting on the announcement at the time, Dana Roets, Chief Operating Officer, said:
"We are delighted that this quarter we have once again set a new production record at Blanket and for the last three quarters we have achieved our quarterly target ounces. This has been an excellent year, the ramp-up in production towards our yearly target of 80,000 ounces has met our best estimate and, as a consequence, we are on track to hit the top end of our production guidance of between 73,000-80,000 ounces.
"We continue to work hard on completing the transaction for Bilboes and in the meantime will restart the oxide operations with the expectation that it will return to profit during the second quarter of 2023.
"Caledonia is optimistic on the geological prospectivity in Zimbabwe and continues to evaluate other investment opportunities in the country with our long-term vision to become a multi asset gold producer.
"This is an exciting time for the Company, and we look forward to continuing to update shareholders of our progress," Roets concluded.