DeepGreen hits back at WWF led critics of seafloor mining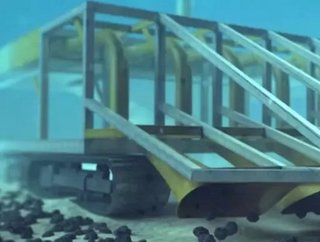 DeepGreen maintains "an exacting commitment to science-based impact analysis and environmental protection" is informing its strategy...
Canada's DeepGreen Metals, a seafloor mining project which recently announced plans to go public, has hit back at critics calling for a moratorium on mining the seabed.
Google, the WWF and BMW were among those calling for a deep-sea mining ban until the environmental risks of this mining process are "comprehensively understood".
Nodules
In an open letter to the brands call for a ban on seafloor mining, DeepGreen stated: "We agree that seafloor minerals development should be approached cautiously and with an exacting commitment to science-based impact analysis and environmental protection. A precautionary approach has informed our strategy from the outset, including our mission to provide battery metals sourced from deep-ocean nodules that generate zero solid waste, no toxic tailings, and a fraction of the carbon emissions compared to land-based sources. 
"Such environmental benefits can be achieved only through collecting polymetallic nodules, 4,000 meters deep on the abyssal plain where the abundance of life is up to 1,500 times less than in the vibrant ecosystems on land from where battery metals are currently sourced. Nodules lie unattached on the seafloor, and the extractive processes will not affect the integrity of the seafloor crust. This is different to other resource types that are the impetus for the moratorium being put forth by the World Wildlife Fund (WWF)."
Net-Zero
The signatories of the moratorium in opposition to DeepGreen's plan also include Volvo and battery maker Samsung SDI. However, DeepGreen said it shared a common goal for "achieving a net-zero-emissions future while protecting the oceans and other ecosystems from climate change". 
DeepGreen countered the argument against seafloor mining by pointing out that the largest land-based deposits of nickel - the key ingredient in EV batteries - lie beneath biodiverse, carbon-sequestering ecosystems in Indonesia and the Philippines. "Consumer brands that refuse to consider alternative mineral supplies will be complicit in increased deforestation, toxic tailings, child labour (in the case of cobalt), and destruction of terrestrial habitats and carbon sinks."
Battery Metals
DeepGreen argued polymetallic nodules can provide key battery metals with up to 90% less carbon emissions equivalent, with no child labour. "In order to achieve electrification of the vehicle fleet without destroying terrestrial ecosystems, we need to explore creative solutions for the mineral supply chain including the responsible use of seabed minerals. Car companies like BMW and Volvo that are pledging to go all electric should focus sourcing decisions on actual indicators of impact and once they see the full data, they will most likely reconsider."
"Given the current lack of available material for recycling, we will need a massive injection of these metals to build up a sufficient stock if we are to stop extracting from the planet and enable a closed-loop economy," the company said.
DeepGreen Metals Inc. is a deepsea minerals exploration and development company on a dual mission: (1) supply metals for the green transition with the least possible negative environmental and social impact and (2) accelerate the transition to a circular metal economy. The company holds exploration rights to two polymetallic nodule contract areas in the Clarion Clipperton Zone sponsored by the governments of Nauru and Kiribati and regulated by the International Seabed Authority. DeepGreen has developed a process for producing metals from polymetallic nodules with near-zero solid waste, eliminating the need for tailings dams on land.