McKinsey: Decarbonising Steelmaking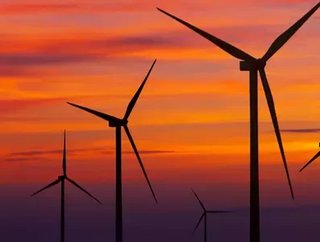 McKinsey investigates the decarbonisation plans being put in place which could lead to a significant reduction in emissions in the steelmaking process
The transition toward clean energy and decarbonisation of the fuel mix is one of the most burning topics in heavy industry. The steel industry is one of the top three contributors to CO2 emissions, and more than 70% of greenhouse-gas emissions in the steel industry are directly linked to use of coal as both fuel and reductant.
Decarbonising Steel Production
Steelmakers are taking several steps to decarbonise, targeting this regime for quick results (Exhibit 1). The first step toward this goal is focused on emissions reduction and the repurposing of steel through a switch to alternate materials in steelmaking and efficient production of long-lasting steel products. Second, operations can be decarbonized by increasing scrap usage and carbon-free electricity. Some steelmakers use biomass as a reductant instead of coal and implement smart carbon usage to capture and mitigate the release of CO2 emissions.=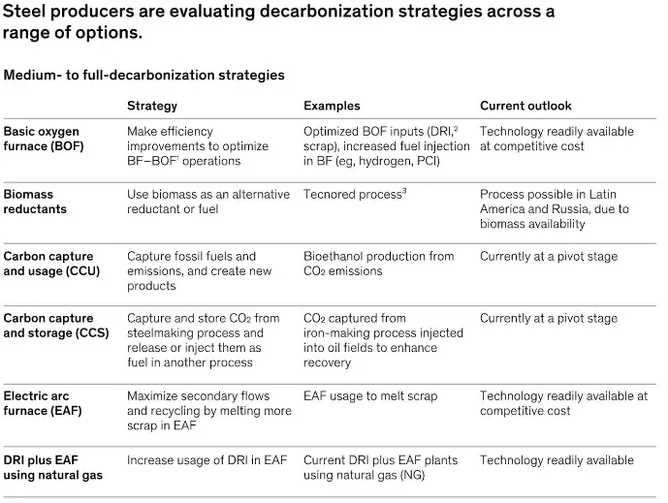 Reducing Emissions
Recent developments in regulations, along with commitment among some governments to reduce CO2 emissions, have led many steelmakers to set high decarbonisation goals in coming years. Steel companies should, therefore, determine their midterm and long-term paths to decarbonisation today (Exhibit 2).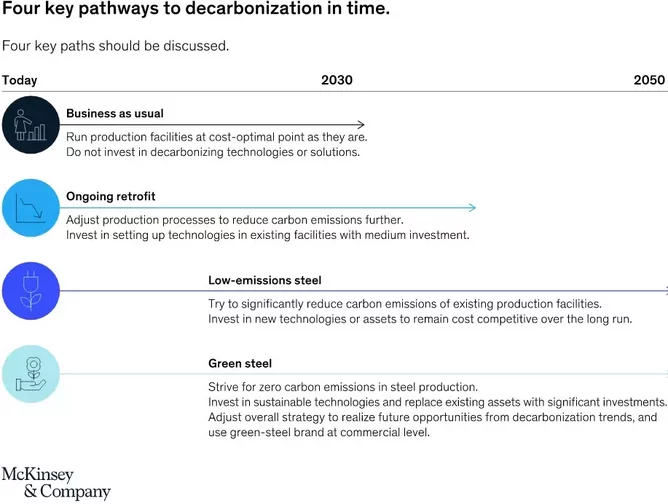 SteelLens
While the next decade will likely see process modifications such as carbon capture and storage (CCS) and carbon capture and usage (CCU), implementation of new processes will be critical. One lever for these transitions will be the reduction of iron ore with hydrogen instead of coal. However, the determining factor for the success of this technology will be the availability of hydrogen at economic level and at scale.
While CCS and CCU are both medium- and long-term economic options, hydrogen is a growing opportunity in the face of ambitious international climate targets. It is one of the few options for reducing emissions in steelmaking and could provide renewable developers a competitive advantage in the current paradigm. According to McKinsey's SteelLens, hydrogen-based steel production could enable steel production that is nearly carbon-neutral (Exhibit 3).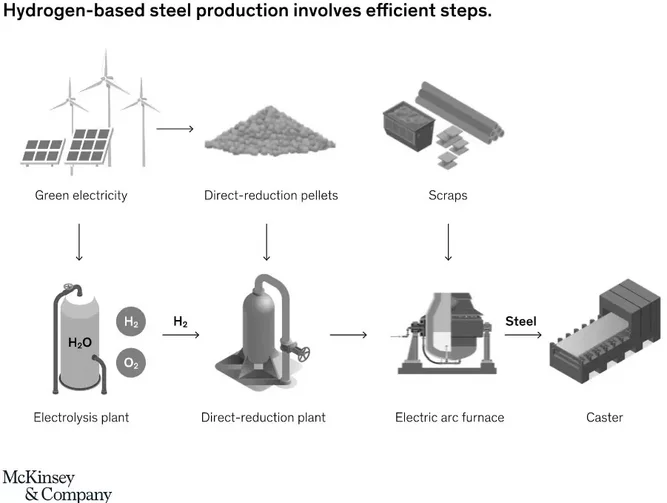 Hydrogen
Adopting CCS or CCU technology in existing blast furnaces would add operational expenditure of approximately €100 per tonne of crude steel, and hydrogen-based steel production would cost approximately €170 per tonne of crude steel. By 2050, with increases in scaled hydrogen production and carbon taxes, hydrogen-based steel production, CCS, and CCU will provide competitive options for steelmakers (Exhibit 4).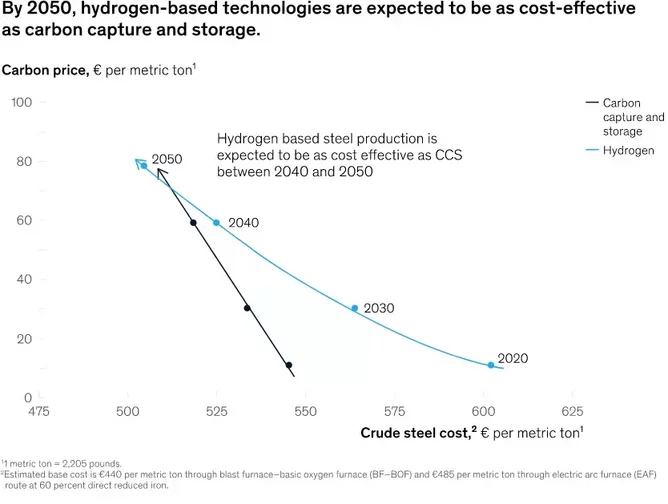 We believe that, starting today, decarbonisation of the steel industry would lead to better outcomes for individual companies. Looking toward the long-term horizon of building or retrofitting industrial sites, significant emissions reductions can be achieved more efficiently through investment and plans initiated now.