Sustainable mining in the spotlight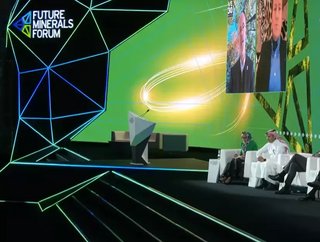 Sustainable mining was a key focus at today's Future Minerals Forum in Riyadh
Mining companies should adhere to four key steps when devising their sustainability strategies, according to Marco Lambertini, Director General of the World Wildlife Fund International, speaking at today's Future Minerals Forum in Riyadh.
He said companies need to initially make an "honest and thorough assessment" of their carbon footprint and sustainability targets; secondly commit to develop a plan that addresses their footprint and seeks to "avoid, mitigate and compensate"; thirdly, thoroughly implement the plan in terms of reporting and transparency; and finally, they should advocate within the sector, demonstrating how progressive companies are implementing sustainability agendas.
"It's important to say that any action, any commitment, is meaningful," he said. "There are two parallel interconnecting goals - one is carbon neutral, the other is nature positive. A company developing a plan to address its footprint really needs to consider both. Finally, we're beginning to stop taking nature for granted, and value nature."
Lambertini was speaking at a seminar entitled: 'How best to position the mining industry as a leader on sustainability and development partnerships?'. The mining industry is responsible for 4 to 7% of greenhouse gas (GHG) emissions globally.
"If you ask me the one element we haven't got right yet, is a well thought out, inclusive of social environmental considerations, land use planning exercise on the ground," he added.
Rohitesh Dhawan, President and CEO of the International Council on Mining and Metals (ICMM), echoed Lambertini's message, saying: "We know that minerals are critical but let's make a promise to mine them as if they're not."
Dr. Thomas Kaplan, Chairman, Electrum Group, speaking on a video link from New York, was effusive in his outlook for Saudi Arabia - a country with which he has had a 45-year working relationship - saying it was in the midst of an "epic, transcendent revolution".
"The many reforms can't be seen in isolation - this is not your grandfather's Saudi Arabia. This is arguably the most important reform centre in the world today," he said. "Those companies that engage with it are not coming to a country that's greenwashing. One of the best pieces of news for mining in Saudi Arabia is you have Mark (Bristow) and Robert (Friedland) on that stage. If you are able to have practitioners of best practice in the sector, you will encompass all the aspects of ESG."
In conclusion, H.E. Khalid Al Mudaifer, Vice Minister for Mining Affairs, and President and CEO of Ma'aden, said: "We are serious and ready, and have transformed ourselves in the last five years. We have the key stakeholders here to start the journey to build sustainable practices, and we can share it with the region and the world."
• Join global business leaders and sustainability experts who are taking meaningful action at Sustainability LIVE, being held at Tobacco Dock, London, 23-24 February 2022. Register your attendance today. Click here to discover more.