What is the result of Northvolt's recycling initiative?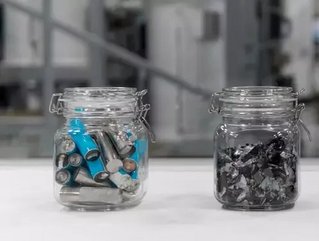 Northvolt has reached a major milestone in circular battery production by developing its first battery cell from recycled metals
With battery metals in such high demand, organisations are considering ways in which they can produce battery cells with recycled materials. As COP26 comes to a close and countries have some plans in place for increasing dependence on renewable energy, waste management, and other important areas, a suitable way to support the demand for battery materials is through a circular economy. The need for battery production is intensified by plans to phase out coal usage.
The battery producer Northvolt has made a statement for itself as it embarks on a mission to build the world's greenest battery cells and supply them to the European market. The company has recently announced its latest development in circular battery production, which was achieved through its recycling programme Revolt. The project resulted in the first lithium-ion battery cell that uses a nickel-manganese-cobalt (NMC) cathode, which was sourced from recycled batteries. 
Northvolt reached this milestone at its labs in Västerås, Sweden, where the company's research and development takes place and has resulted in a major breakthrough that will support future decarbonisation efforts. Emma Nehrenheim, Northvolt's Chief Environmental Officer and head of Revolt, says, 'What we have shown here is a clear pathway to closing the loop on batteries and that there exists a sustainable, environmentally-preferable alternative to conventional mining in order to source raw materials for battery production. The recycling process can recover up to 95% of the metals in a battery to a level of purity on par with fresh virgin material. What we need now is to scale-up recycling capacities in anticipation of future volumes of batteries requiring recycling'.
Recovering precious metals
Leading on from the development of the new battery cell—produced with nickel, manganese and cobalt recovered by low-energy hydrometallurgical treatment—Northvolt will now aim to scale the recycling process and production of battery cells in this way. The company is now committed to the target of 50% recycling battery production by 2030, which led to changes in the design of its gigafactory—based in Skellefteå, Sweden—to incorporate the capacity for 125,000 tonnes of battery recycling per year.
'As the electric vehicle revolution gains speed, we should be mindful that some 250,000 tons of batteries will reach their end-of-life in Europe by 2030. In this, some see challenges and obstacles', says Nehrenheim. 'At Northvolt, we see opportunity. Similar to how we've found novel, sustainable solutions for the handling of salt byproducts at Northvolt Ett – treating it as a valuable product and not waste – the same is true with end-of-life batteries. Ultimately, a commitment to circularity will not only significantly reduce the environmental impacts of the battery industry but also contribute to our vision to set a new benchmark for sustainability in manufacturing'. 

For more lithium insights, check out the latest issue of Mining Global Magazine.