Lunchbox for Miners: The L. May Metal Fabricators story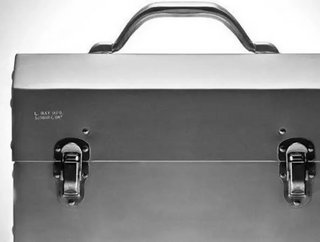 For people in the mining industry, working up an appetite is easy to do. The labor intensive sector requires long hours, remote locations and hazardous...
For people in the mining industry, working up an appetite is easy to do. The labor intensive sector requires long hours, remote locations and hazardous working conditions, creating the perfect storm for one's afternoon hunger. To combat the harsh lunch time setting, the ideal lunch box has been born.
L. May Metal Fabricators, the creators behind the Miner's Lunchbox, is a Canadian-based company specializing in aluminium lunch boxes designed specifically for the mining industry. The lunch boxes, which were originially created by a miner, are manufactured with all steel-nickel-plated hardware to ensure extra strong and durable riveted construction, making them virtually indestructable.
"Our Miners Lunchboxes are known to last 30 plus years, enduring the daily use and abuse of industry workers. They are handed down to the next generation with family pride," says Owner, Catherine Langin.
• Related content: [Photos] Portraits of coal miners
In 2009, the iconic lunch boxes were featured on the CBC television show Dragon's Den. 
Here's their story:
In 1957, Leo May, a miner working underground at INCO Ltd, the world's major nickel producer, sat his black tin lunch box on its end to use as a seat while waiting for the "cage", the underground elevator system bringing men and supplies in and out of the mine depths.
The next thing he knew he was flat on the ground, his lunchbox squashed. This was not acceptable! So, his inventive mind set about creating a lunchbox that would hold the weight of a man, and his lunch, when there were no seats available -- miners often ate their lunch on the job, in field conditions without chairs or benches. Also, it had to be affordable for the miners, who earned $1.25/per hour at the time.
• Related content: TOP 10: Highest Paying Jobs in the Mining Industry
Working from a small workbench out of his basement workshop, May came up with a design that not only supported him but was built to last. When May showed up at work with his shiny new lunchbox, he was immediately inundated with orders for 40 more! Soon, Leo's hobby evolved into a small company called L.May Mfg. To identify his lunchboxes, he modestly chose a small stamp in the most popular font of the day and placed it in the upper left hand side -- "just like the address on the letter" -- where that very same stamp shows today. 
These engineering marvels were hand-produced for a few years until demand forced him to invent unique automated equipment for mass production. In 1978, the company was incorporated under the name L. May Metal Fabricators Ltd. Leo's lunchboxes became the standard for the mining and construction industry and virtually 100 percent of  INCO's 20,000 workers carried the lunchboxes from Sudbury. Many workers at the time carried their same lunchboxes until retirement--a span of 30 years. Some say they work like good luck charms.
Leo's lunchboxes are now sold around the globe, as The Original Miner's Riveted Aluminum Lunchboxes and are now used in many innovative settings such as industrial uses, promotional items for advertising agencies, fashion items, household uses, seen in movies and TV commercials. The uses are limited only by your imagination.
Stay connected! Follow us on Twitter and like us on Facebook