Supply Chain & Operations
Onslow Iron's first transhipper launched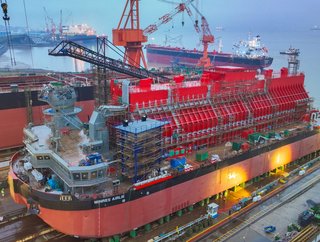 At 123 metres long and 36 metres wide, the huge transhippers will have a seven-metre draft when fully loaded
Mineral Resources' Onslow Iron project has launched Western Australia's first shallow draft and fully enclosed transhipper
MinRes, in partnership with naval architects, local and international engineering firms, has created Transhippers, which are crucial to the success of one of the largest iron ore projects currently being developed in Australia.
These specialised vessels have a shallow draft, allowing for the transportation of millions of tonnes of iron ore without requiring a deep-water port, thereby significantly reducing the project's cost and environmental impact. In addition, Transhippers play a crucial role in MinRes' dust-free mine-to-ship transport solution, as they are fully enclosed to prevent any dust pollution in Onslow resulting from MinRes operations.
MinRes Managing Director Chris Ellison said: "The successful launch of our first transhipper, MinRes Airlie, is a significant milestone in the development of our Onslow Iron project, which is set to redefine mining in Western Australia.
"Transhippers are just the latest example of the cutting-edge innovation being designed and developed by MinRes and are crucial to how we will unlock stranded iron ore deposits in the West Pilbara.
"The unique design of these shallow draft vessels means we don't need to build deep-water berths, drastically reducing both the cost and environmental footprint of this landmark project.
"The interior fit-out of these vessels demonstrates our commitment to setting a new standard for workplace wellness, whether our people work in our state-of-the-art headquarters in Perth or at sea on a transhipper."

The Onslow Iron project, valued at $3 billion, is poised to revolutionise the mining industry in Western Australia, with an estimated annual shipment of approximately 35 million tonnes of iron ore commencing from mid-2024. MinRes is currently equipping the Airlie vessel, which is expected to arrive in Western Australia in early 2023, and the fitting-out process will continue throughout the year.