Komatsu partners with Vale on mining technology innovation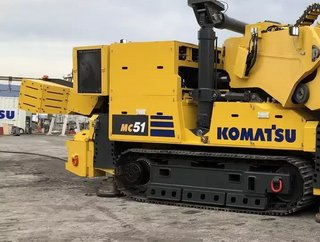 Global miners Komatsu and Vale team up to develop new mechanical technology as they combine forces to tackle the future of underground rock excavation
Komatsu's DynaCut mechanical cutting technology has been selected for an impressive upgrade courtesy of the collaboration between its developer and global iron ore and nickel producer, Vale. Teaming up to invigorate the future of underground hard rock excavation, Komatsu and Vale are putting their heads together to advance the technological innovation of the mining machinery industry. 
Mining duo teams up to tackle the inaccuracies and emissions of operational machinery
DynaCut's capabilities are expected to be tested on Komatsu's new MC51 machine at Vale's Garson Mine in Sudbury, ON, Canada. The technological upgrades come after a decade worth of Komatsu accumulating research and experimenting with the latest innovative industry advancements. The company has focused specifically on ways to break rock with consistent accuracy, utilising a fully electric zero-emission system. Through the automation and control of its processes, the machinery is able to be remotely operated, reducing the risk of operational accidents and improving machine precision. 
"True innovation requires effective collaboration between the end-user and suppliers to ensure the technology meets the needs of the industry," says Chief Operating Officer of North Atlantic Operations and Asian Refineries for Vale, Dino Otranto. "This partnership is that first step to really prove and understand the technology while meeting our high standards for safety."
Mining machinery undergoes technological adaptations
Rudie Boshoff, Director of Hard Rock Cutting Systems at Komatsu, is hopeful that this latest partnership will prove valuable for the sustainable and streamlined future of mining machinery. 
"We're excited to be trialling this new machine and technology because it offers the potential to really change the way our customers' mine.
"Not only does the DynaCut technology provide a very controllable way of cutting rock - within 50 millimetres accuracy to plan - the machine itself, the MC51, is designed to advance more sustainable mining methods by reducing the amount of equipment required to get to the ore body."
The two collaborators are planning to reveal more details about their innovation-focused partnership later this month, on stage at the Komatsu booth. Although, so far, it seems their joint pursuits have been successful, and their mining machinery looks to be holding promise for the future of the mining sector's sustainability and technological advancements.