Komatsu's mining dozer upgraded to improve production output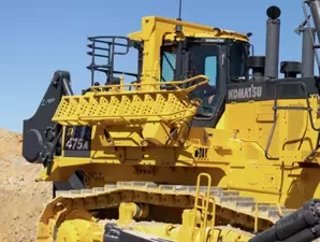 Komatsu Mining upgrades its D475A-8 dozer to double its life and improve efficiency by increasing the vehicle's speed, power, stability, and fuel capacity
Komatsu is well aware of the importance mining automation holds in the success of operations and output efficiency. Upgraded, modern, highly efficient vehicles on site could make all the difference between a profit and a loss, and so its re-engineered D475A-8 dozer was redesigned with an increase in operational successes in mind. 
Developed with customer feedback in mind, Komatsu's dozer targets twice the lifespan of the models that came before it and is able to cope with a number of overhaul cycles. Its 10% productivity increase, 10% reduction in fuel consumption, and 5% rise in reverse engine power makes the D475A-8 dozer an attractive asset to any mining company looking to chip away at operational inefficiencies. 
"Its low centre of gravity provides machine stability, and long and consistent track on ground length offers more traction, pushing power, ripping efficiency and less shoe slippage," the company says. 
"Track shoe slip control automatically controls engine speed and minimises slip during ripping."
D475A-8 dozer designed to double lifespan and increase mining operation efficiency
A novel and streamlined transference of power to the driveline is achieved through the addition of a lockup torque converter, which is automatically engaged via an automatic gear shift move. The converter aids in the reduction of cycle times and the subsequent increase in production, transmitting total engine power to the transmission and thereby improving ground speed. As a result, the level of the dozer's efficiency is akin to that of direct drive, eating up a lower amount of fuel in the process.  
"Additional horsepower can provide for faster ground speeds, shorter cycle times, and more production tonnes per hour, when appropriate. The D475A-8's high horsepower in reverse means the lockup converter stays engaged more frequently, allowing significantly higher levels of production, especially when pushing down slopes. 
"Engineered for exceptional production, the D475A-8 mining dozer is designed for power, stability, and solid performance."
Automation innovation leads to the D475A-8 becoming the 'next big thing'
Supposedly, improvements to the dozer ensure a more comfortable handling experience, with a decreased amount of operator input necessary. The blade auto-pitch mode gives the option for reduced blade side sway and improves the visibility of the blade for the driver of the dozer. It's engineered specifically to ensure a decreased need for planned downtime, and upgrades to the vehicle's capabilities make for an undeniable advantage in operations that require heavy machinery.
"Improvements to the operator's cab make the D475A-8 more comfortable to operate throughout long shifts," Komatsu continues. "Ergonomically placed touchpoints and palm control joysticks make operation easier. Outstanding operator visibility to the ripper shank, a rearview monitoring system, and a heated ventilated, air-suspended seat help keep operators comfortable. 
"The redesigned undercarriage of the [dozer] drastically reduces shock and vibrations when [it] travels over rough terrain."