Supply Chain & Operations
Abacus Mining starts diamond drilling in Nevada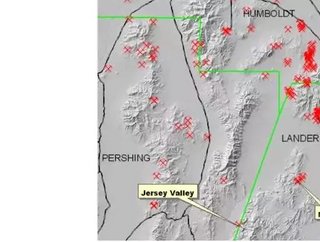 Abacus Mining plans to drill four holes ranging in depth from 250-300 metres...
Abacus Mining & Exploration Corporation is about to start a diamond drilling program at Jersey Valley, within the Battle Mountain trend of north-central Nevada.
The company has signed a contract for approximately 1,100 metres of core drilling, designed to test two of the five anomalous trends identified in the Induced Polarization (IP) geophysical survey completed late last year. Four holes will be drilled, ranging in depth from 250-300 metres.
The IP survey detected 44 separate targets, which have been grouped into five separate ENE trending zones, four of which are open in at least one direction. 
Three zones have signatures characteristic of epithermal precious metal mineralization and two others have signatures associated with gold skarns. The property lies within an active hydrothermal environment, with an operating geothermal power plant on the claim group.
The 2020 IP survey was designed to bracket four historic lines of IP done by a previous operator in 2005. The historic survey was laid out to target a depth of approximately 200 metres, while the new survey was designed to penetrate to depths of over 400 metres.
All three holes have disseminated sulphides throughout, including pyrite and stibnite, and contain anomalous gold and silver, along with a suite of other elements. 
Dr. Adrian King joined as an advisor to management and board in December.