Supply Chain & Operations
ABTC reports "attractive lithium concentrations" in Nevada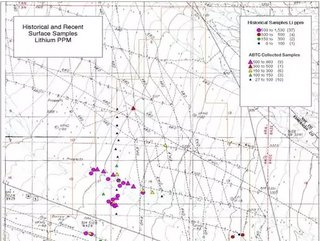 American Battery Technology Company joins growing number of companies capitalising on opportunities in the lithium-rich state
American Battery Technology Company (ABTC) has reported grades of anomalous reported lithium present from 260 ppm to 1,530 ppm in Nevada.
It announced initial sampling results at its recently secured 305 lode mining claims located on land administered by the Bureau of Land Management (BLM) in Little Smokey Valley near Tonopah, Nevada.
The ABTC field team analysed 29 new surface sample locations, along with existing samples previously collected by other parties.
Samples with values of 300 ppm and up are typically considered very prospective in nature. The historic samples were analysed by ALS Analytical Lab in Reno, and the samples collected by ABTC were assayed at the American Assay Laboratory. 

"We are excited to confirm the attractive lithium concentrations in these surface samples throughout our claims," said ABTC ceo Ryan Melsert. "With these initial surface sample characterisations completed, we can now take the important next step of subsurface sampling to determine the potentiality of even greater attractive concentrations and overall compositions of these sedimentary deposits as experienced on nearby claims at shallow depths."

As a result of the initial surface sample characterizations, ABTC has submitted a Notice of Operation permit and Reclamation Bonding to the Bureau of Land Management Tonopah Field Office for subsurface samplings of these claims. Exploratory subsurface sampling is the next sequential step in moving towards developing this resource where the sample results will be used to define the extent of the deposit in footprint, depth, and the grades of the lithium. 

Preliminary evaluation of historical sampling and characterization efforts have indicated that the composition and structure of the resources on these claims could be representative of resources identified on nearby claims in the same region.
In April 2020, American Lithium published a resource assessment of their 7,500-acre TLC project, which directly borders these ABTC secured claims, which stated a Measured and Indicated resource of 5.37 million tonnes of lithium carbonate equivalent, with an additional 1.76 million tonnes inferred. 

Over the past two years, ABTC has been designing and optimising its internally-developed processing train for the manufacturing of battery cathode grade lithium hydroxide from these Nevada-based sedimentary claystone resources.
The majority of these development efforts to date have been performed with sedimentary claystone resource samples provided by partner companies in the Tonopah region.
While ABTC will continue to work with these partners to refine, test, and validate its internally developed technologies for potential commercialisation at these resource sites, ABTC is also evaluating the performance of its lithium extraction and manufacturing technologies directly on its own lithium-bearing resource. 

"The magnitude of the entire lithium-ion battery recycling industry combined cannot meet the near insatiable demand for critical and strategic battery metals on its own," said Melsert. "Our primary battery metal resource extraction work seeks to supplement these recycled-sourced metals with low-cost, low-environmental impact, and domestic virgin-sourced metals to support the establishment of a secure, domestic, closed-loop circular battery supply chain."
The state estimates there are lithium claims located in 18 hydrographic basins across Nevada. 
Last month Cypress Development Corp. reported extraction testing of lithium-bearing claystone from the company's 100% owned Clayton Valley Lithium Project. "The pilot plant is operating as designed. Leaching is now underway on lithium clay," said Bill Willoughby, president and ceo of Cypress. 
Arbor Metal Corp's Miller's Crossing Lithium Project consists of 192 claims covering 3,800 acres (~1500 Hectares) in the Big Smoky Valley. The project fits well into the playa-type brine deposit model as it is located adjacent to, and shares geological similarities with Clayton Valley, home to the only lithium producing brine operation in North America.