Supply Chain & Operations
GM Strikes Deal With CTR For First US Lithium Mine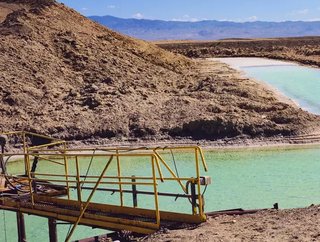 General Motors has agreed on a deal with Controlled Thermal Resources for the first lithium mine in the United States
As countries continue to switch to renewable energy, companies have high stakes in the lithium market as they strive to mitigate the need for burning fossil fuels in daily business operations. With total global reserves of around 14 million tonnes, lithium is applied to more projects now than ever before. It is essential for decarbonisation applications, including electric vehicles (EV) and battery renewable energy storage, making it one of the most valuable resources at present. 
General Motors (GM) is responding to the United States' near-total reliance on foreign lithium sources. The company agreed on a deal with Controlled Thermal Resources (CTR) for the supply of lithium from the Salton Sea - which is around 120-miles from San Diego - one of the most polluted areas on the planet. This means that GM's future electric cars will be powered by batteries made from lithium sourced in the California desert. 
The Next Step Towards Decarbonisation
According to the California Energy Commission, the Salton Sea, California, is thought to be one of the largest lithium brine reserves in the US, with the potential to supply around 40% of the global lithium demand. CTR has plans to manufacture lithium, which would potentially be extracted from rocks, clays, and subterranean brine reserves, using a self-contained and environmentally friendly method. "The integration of direct lithium extraction with renewable geothermal energy offers the highest sustainability credentials available today," says CTR in a press release.
"CTR's closed-loop, direct lithium extraction process utilises renewable power and steam – significantly reducing the time to produce battery-grade lithium products and eliminating the need for overseas processing. CTR's operations will have a minimal physical footprint and a near-zero carbon footprint. The brine, after lithium extraction, is returned to the geothermal reservoir deep within the earth."
The Effects Of The Mining Project
Regarding obtaining renewable energy for the project, the Salton Sea is already well suited for the job. It currently has a network of 10 geothermal stations. As the steam is pumped from underground and into generators, it produces a geothermal byproduct called saline brine, which is high in lithium. Instead of the current process - returning the lithium byproduct to the soil, CTR wants to send the byproduct into open pits, allowing the water to evaporate and leave minerals behind. 
Despite how simple and efficient the process may seem, the projects proposals have been met with mixed feelings. All industries need to consider the effects of their processes to become truly carbon-neutral while mitigating any further ecological damage. While the project would produce clean energy for EVs, many are concerned about its environmental integrity. 
Environmentalists have expressed their concerns about the current state of the Salton Sea, which is riddled with toxic chemicals, including arsenic, selenium, and pesticides. What was once a resort area now releases harmful chemicals into the atmosphere - as its water evaporates - causing harm to local people. 

For more mining insights, check out the latest issue of Mining Global magazine.