Supply Chain & Operations
Ma'aden reaches milestone on $6.4bn phosphate project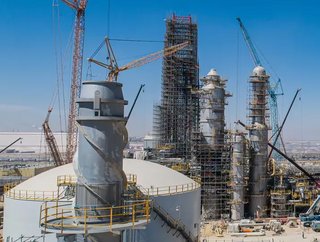 Ma'aden, Saudi Arabia's national mining champion, has neared completion on the first project in its $6.4bn 'Phosphate 3' portfolio expansion
Saudi Arabian mining company Ma'adenhas completed utilities commissioning on a $900mn ammonia plant in Ras Al-Khair industrial City. Construction completion is expected in the fourth quarter of 2021, with full activation in Q1 2022.
The ammonia plant is the first project in the $6.4bn 'Phosphate 3' expansion to Ma'aden's phosphate fertilizer portfolio, which encompasses the full mine-to-market development process of phosphate fertilizers.
Abdulaziz Al Harbi, CEO, Ma'aden
Ma'aden CEO Abdulaziz Al Harbi commented: "This is a tremendous milestone for our phosphate portfolio. The ammonia plant expansion will add over 1 million tonnes ammonia production to reach 3.3 million tonnes, making Ma'adenone of the largest ammonia producers east of the Suez Canal".
The 'Phosphate 3' expansion will add 3 million tonnes of phosphate fertilizer production capacity to Ma'adenportfolio, bringing that to a total production capacity of more than 9 million tonnes. This will make Ma'adenone of the top three global phosphate fertilizer producers and Saudi Arabia the second largest phosphate fertilizer exporter worldwide.
"We have been moving ahead with the construction during the COVID-19 pandemic and thanks to the dedication of the Ma'adenteam and our partners, construction has been completed for the utility section and pre-commissioning activities started," added Al Harbi.
"Safety has remained a priority for us throughout the project and I am pleased to say that over 4,000 employees invested 14 million+ safe man hours to deliver the construction on the Ammonia 3 project over 32 months."
Ma'aden is among the top three producers of phosphate fertilizers in the world
Ma'adenbegan commercial production of fertilizers in 2011 and has since become one of the top three largest producers of phosphate fertilizers globally, catering to the biggest fertilizer markets and meeting the food requirements of hundreds of millions of people. Ma'adenis committed to empowering farmers by providing high quality products that improve crop quality and yield and supporting Saudi Arabia's contribution to achieving global food security in line with the UN's Sustainable Development Goals.
Ma'aden's mine-to-market phosphate business consists of three mega projects in Saudi Arabia: Wa'ad Al Shamal – the center of the Saudi phosphate industry; Ras Al Khair, a phosphate and bauxite processing superhub; and Phosphate 3. In 2019, Ma'adenexpanded the reach of its phosphate business in sub-Saharan Africa through the acquisition of fertilizer distribution company Meridian Group, enabling faster and better service for local customers in Africa.
Ma'aden is making a commitment to sustainability
In line with Ma'aden's sustainability commitment, phosphate operations at Ras Al Khair Industrial City draw all its process water from one of the world's largest desalination plants and utilize a natural engineered wastewater treatment (NEWT) system. Around 60-80% of the treated water gets reused as process water and the rest for local landscape irrigation.
The resulting "artificial wetland" created by NEWT has proven to be a sustainable and effective natural method to treat wastewater on municipal and industrial levels, and as an added benefit, has become an important habitat for wildlife, especially shore birds, in line with Saudi Arabia's commitment to combat climate change under the Saudi Green Initiative.
Ma'aden recently highlighted its achievements as Saudia Arabia celebrated the fifth anniversary of the launch of Vision 2030.